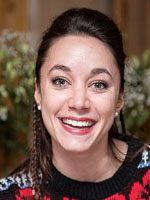 Miss
Clelia Compas
Biography
Clélia Compas is a second year doctoral researcher in Migration Studies at the University of Sussex. Her current research investigates the everyday life experiences of Southeast Asian LGBT+ migrants living in Bangkok. Particularly, she tries to understand how sexuality impacts migration processes, from the decision to migrate to the modes of incorporation at destination.
Clélia received a BS in International Relations from the University of Geneva, Switzerland, and an MA in Global Politics from the London School of Economics and Political Science (LSE), England. Once graduated from LSE, she moved to Thailand where she worked as a consultant on migration and human trafficking issues for the United Nations for two years (successively under contract with UNESCO, UNDP, and UNODC).
Alongside carrying out her fieldwork in Bangkok, Clélia works as a programme advisor on LGBT+ migration in Asia for Equal Asia Foundation. Particularly, she works together with the Executive Director to develop a programme strategy to address the needs and vulnerabilities of LGBT+ refugees in Thailand.
Role
Doctoral Researcher
Qualifications
MA Global Politics - London School of Economics and Political Science (LSE), England 2015 (Thesis: Supranational Governance in Retreat? A Post-Functionalist Analysis of the European Union in the Context of the Refugee Crisis). Awarded Merit.
BA International Relations - University of Geneva, Switzerland 2014 (Thesis:Humanitarian NGOs' adaptation to the Syrian conflict). Awarded Distinction.
Activities
During her time at the United Nations, Clélia published a policy brief on internal migration in Southeast Asia:
UNESCO (2018), 'Policy Briefs on Internal Migration in Southeast Asia', Bangkok, Thailand. In partnership with UNDP, IOM and UN-Habitat. Available at: http://bangkok.unesco.org/content/ policy-briefs-internal-migration-southeast-asia
Clelia also worked as a volunteer in Northern India (Himachal Pradesh), where she supported children's education by teaching english and helped renovating the two primary schools of the village.