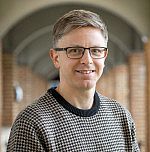 Dr
Christopher Brown
Biography
Chris is a filmmaker and academic researcher. His work is concerned with how production processes and cultural contexts shape filmic form and content, with particular emphasis on how filmmaking practice negotiates screen depictions of space, place, and sexuality.
As a practitioner, Chris has written and directed several short films that have screened internationally. His psychological thriller Remission (2014) was nominated for the Iris Prize and the Best of British Award at the LGBT Iris Prize Festival in Cardiff, amongst other festival screenings. The film was distributed in 2015 by Peccadillo Pictures on their Boys on Film DVD collection and is also available to rent on BFI Player, FilmDoo and vimeo-on-demand. His experimental comedy Soap (2015) screened at the Vancouver International Film Festival and won an honorable mention at the New Jersey International Film Festival.
As a screenwriter, Chris's awards include Best Screenplay at the 2013 London Independent Film Festival for his feature script Knock-Out, a sports drama about a young boxer struggling to come to terms with his sexuality. In 2016 he wrote the screenplay for medical comedy-drama Symptoms, which was nominated for Best British Short at the Leeds International Film Festival.
As a researcher, Chris has written on American cinema, particularly independent and alternative studio practice of the 1970s, and more recently on Taiwanese film in the post-New Cinema period. His articles have appeared in journals such as the Quarterly Review of Film & Video, Asian Cinema, Film Criticism, Media Practice and Education, and Senses of Cinema. In 2014 he edited with Pam Hirsch a collection of essays entitled The Cinema of the Swimming Pool, which explored pools as dynamic sites where social, political, cultural and aesthetic forces converge. In his most recent work, Chris discusses approaches to practice-as-research on his latest film Coccolith, an experimental drama shot in the Ramsgate wartime tunnels in Kent.
Chris obtained his PhD and MPhil from the University of Cambridge and subsequently worked as a production company researcher. Prior to joining Sussex, he was a Senior Lecturer in Film Production at the University of Greenwich.