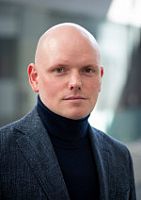 Dr
Steven Brieger
Biography
I am Lecturer (Assistant Professor) in International Business at the University of Sussex, United Kingdom. Before joining Sussex, I completed my PhD studies in the program Management & Entrepreneurship (with distinction), a master's degree in Management & Entrepreneurship and a bachelor's degree in Economics and Political Science (with distinction) at Leuphana University of Lüneburg, Germany.
I am also research fellow of the Center for Leadership and Values in Society (CLVS) at the University of St. Gallen, Switzerland. The CLVS hosts the Public Value Atlas Germany and Switzerland which make organisations' contributions to the common good transparent.
In my research, I am concerned with the question of how individual and country-level factors influence (sustainable) business activities. My particular focus is in the field of cross-country research. I examine how (sustainable) intentions and behaviours of young and established organisations are shaped by the socio-cultural, political, legal, and economic business environment. My research can be grouped into three broader subject areas whose intersections are of particular interest to me: (1) Entrepreneurship & Management, (2) Sustainability, and (3) Business environment.
Role
Lecturer (Assistant Professor) in International Business