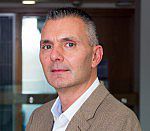 Dr
Neil Partington
Biography
Neil joined the University of Sussex as a Lecturer in Law in 2017. Prior to this, at Queen's University Belfast, School of Law, he was a Research Fellow, module co-ordinator for Sports Law and a University Tutor.
Neil holds a PhD in Law (2016) and a Masters in Legal Science (with Distinction, 2013) from Queen's University Belfast, an MSc in Sports Coaching from Miami University (Ohio) (1992) and, a BA(Ed) in Physical Education from the University of Exeter (1990). His professional background includes experience as a teacher, curriculum manager, Director of Teaching and Learning at a sixth form college and, he was previously an assistant men's basketball coach at Miami University (NCAA Division 1). He is also a qualified Ofsted Inspector (non practising), coach educator and tennis coach.
Neil's research has been published in international peer-reviewed sports law journals, mainstream professional/practitioner law journals, journals with a focus on contemporary legal and social policy issues and, a leading-edge international mainstream sports coaching journal. In November 2017, he was an invited speaker at the Northern Ireland Sports Law Conference: 'Duty of Care in Sport'.
Role
Lecturer in Law
Co-convenor - Sports Law