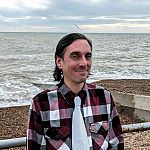 Mr
Henry Dore
Biography
As a mature student I graduated from the Open University with a BEng focused on renewable technology and micro/nano systems. I went on to study an MSc in advanced mechanical engineering at the University of Sussex in order to broaden my horizons and technical knowledge, and am now researching a PhD in cardio engineering and wireless medical devices.
Role
I am currently researching a PhD in Wireless Medical Devices and Cardio Engineering, working closely with Dr. Elizabeth Rendon-Morales and Dr. Rodrigo Aviles-Espinosa. We have several ongoing projects in the field of medical devices utilising patented technology created here at the University of Sussex.
I plan to broaden my knowledge of embedded systems, wireless communication and rapid prototyping to gain the skills neccessary to create fully realised and production ready devices for the medical and commercial markets, employing state of the art knowledge and techniques in order to create real and useful applications of cutting edge sensor and data aquisition hardware.
Qualifications
BEng (2:1) Engineering, The Open University, 2016
MSc Advanced Mechanical Engineering, The University of Sussex, 2018
Activities
I am a keen cyclist, enjoy Punk and Metal gigs and festivals and play in a competetive board gaming league.