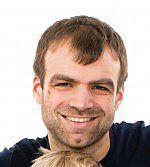 Dr
Stephen Hare
Role
I was appointed as a Lecturer in Microbiology (Biochemistry) in the School of Life Sciences at the University of Sussex in September 2017. I will be continuing my research focus on the biochemistry of Neisseria pathogenesis and teaching in microbiology and biochemistry modules within the school.
Biography
BSc Biochemistry, Imperial College London, 2000-2003. Final year modules in infectious diseases and structural biology inspired me to pursue a research career investigating the molecular details of how pathogens cause disease.
PhD Structural Molecular Biology, Birkbeck College, 2003-2007. Under the guidance of Gabriel Waksman, I conducted my doctoral studies investigating an ATPase of bacterial type IV secretion systems that inject toxins into host cells.
Post-doc, Imperial College London, 2007-2011. My post-doctoral research focused on retroviral integrase: explaining the structural basis of viral integration and the mechanism of inhibition by clinical strand transfer inhibitors in the lab of Peter Cherepanov.
Independent Research Fellow, Imperial College London, 2011-2017. Funded by an MRC Career Development Award, I established an independent research program investigating how pathogenic Neisseria are able to extract haem from human haemoglobin and use it as an important iron source during infection.