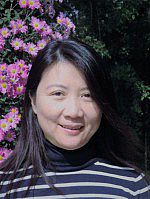 Dr
Louisa Chen
Biography
Louisa is an experienced economist. Prior to joining the Finance Group at Sussex as an Assistant Professor, she held positions of research economist in the Bank of England and ICBC (London) Plc, as well as academic positions in the University of Bath and University of York. She has previously taught many courses in finance and economics at undergraduate and postgraduate levels. Louisa received her PhD in Economics from the University of Essex. Her research has been in the areas of financial economics and applied econometrics. Current research topics include market and funding liquidity, FX market microstructure, systemic risk, market anomalies and empirical asset pricing. She has publications in leading academic journals and the Bank of England publications.

Publications:
The leverage ratio and liquidity in the gilt and gilt repo markets (with Andreea Bicu and David Elliott), Journal of Financial Markets, forthcoming. Bank of England Staff Working Paper No 690, November 3rd, 2017.
Multichannel contagion and systemic stabilisation strategies in interconnected financial markets (with Antoaneta Sergueiva, V. L. Raju Chinthalapati and Thanos Verousis), Quantitative Finance, Pages 1885-1904, Volume 17 (12), 2017.
Learning and forecasts on option returns through the volatility risk premium (with Alejandro Bernales and Marcela Valenzuela), Journal of Economic Dynamics and Control, Pages 312-330, Volume 82, 2017.
The intraday determination of liquidity in the NYSE LIFFE equity option markets (with Thanos Verousis and Owain ap Gwilym), European Journal of Finance, Pages 1164-1188, Volume 22, 2016.
Detecting time-variation in corporate bond index returns: A smooth transition regression model(with Dietmar Maringer), Journal of Banking and Finance, Pages 95-103, Volume 35, 2011.
Judgement Day: Algorithmic Trading around the Swiss Franc Cap Removal (with Francis Breedon, Angelo Ranaldo and Nicholas Vause), Bank of England Staff Working Paper No 711, February 16th, 2018. (quoted in ISDA newsletter)
Algos all go? (with Francis Breedon, Angelo Ranaldo and Nicholas Vause), Bank Underground, Bank of England, May 2nd, 2018. (quoted in Financial Times)
Does market liquidity risk affect Euro corporate bond returns more seriously in stress periods? (with Wolfgang Aussenegg, Ranko Jelic and Dietmar Maringer), Bank Underground, Bank of England, October 27th, 2016.
Has corporate bond market liquidity fallen? (with Yuliya Baranova and Nicholas Vause), Bank Underground, Bank of England, August 27th, 2015. (quoted in Financial Times and the Wall Street Journal)