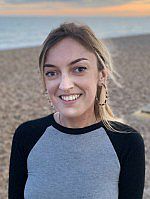 Ms
Jodie Collins
Biography
My PhD research examines the use of pamphlets and pamphleteering primarily by Communists and Socialists in America between 1919 and 1945. I am interested how radical organizations like the Communist Party of America produced and disseminated pamphlet literature, and the changing ways in which such literature was designed to appeal to the American masses. Inversely I will also be examining the lesser role of right-wing pamphlets in US political discourse during this period.
More broadly, I hope to show how these more modern pamphlets fit into the much wider, albeit neglected history of the pamphlet as a form of radical publishing, dating back to the sixteenth century.
I am supervised by Dr. Sue Currell here at Sussex, and Dr. Mercedes Aguirre of the Americas Collection at the British Library. Through the AHRC's Collaborative Doctoral Partnership, I work with the British Library's collection of American political pamphlets with the ultimate aim of curating a webspace for the pamphlets to promote them to researchers, students and the public.
Qualifications
Current PhD American History, University of Sussex (AHRC CDP Studentship)
2015 — 2016 MA Modern History, University of Leeds (School of History Taught MA Scholarship)
2012 — 2015 BA International Relations and Modern History, University of East Anglia
Activities
Awards and Honors
Fellow of the Eccles Centre for American Studies
BAAS Peter Parish Award 2018
AHRC Collaborative Doctoral Partnership Studentship 2017 — 2020
University of Leeds School of History Taught MA Scholarship, 2015.
Conference Papers
American Communist Party Propaganda and the Struggle for an Americanism, 1919-1941, Marx and Marxism in the United States Symposium, University of Nottingham, May 2019.
Make Communism American Again: American Communist Party pamphlets and the struggle for Americanism, 1936–1945, British Association of American Studies Annual Conference, University of Sussex, April 2019.
"Tell it to Millions!": The Political Pamphlets of Radical America, 1920-1945, Historians of the Twentieth Century U.S. Annual Conference, Cambridge University, June 2018.