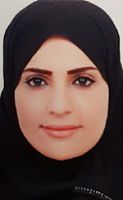 Miss
Monirah Ali A Aleisa
Biography

Business Intelligent (Data Science) in the IT Dept. Saudi Customs. From 2015 To Date

Director of Trainees Department at Customs Training Saudi Customs. From 2011 to 2015
Raised the efficiency level of staffs by arranging Training Programs for 400 Saudi Women Staffs during the year 2012 to 2015.
Designed the Institute Website, Site management and internal mechanism of the Institute
Supervision on the Website of the 03rd Arab forum of commercial fraud and counterfeiting and protect intellectual property rights.

IT Trainer in Customs Training Institute From 2010 To 2011

Programmer in the Saudi Customs - Information Center From 2000 To 2010

Assistant Teacher at King Saud University From 1998 To 1999

Teacher in the schools of the pioneers for computer courses

1-Master of Science in E-Business-MIS Dep- College of Business Administration
2-Bachelor of Computer and Information Sciences, specialty computer applications


Qualification:
1-Team leadership.
2-Microsoft Office Coach.
3-Perfect Humanity and Communication Skills.
4-Master E-Business System.
5-Project Manager.
6-Develop Web System.
7-Programming languages (PHP, HTML,ASP.net ,HTML,JAVA SCRIPT, C#, Python, Pandas).
8-Working on spark,zepplin notebook.
9-High skills in (PHOTOSHOP, CORELDRAW).

10-Expertise in Oracle Business intelligence Tools.

11-Proficient in Visualization with Tableau.
12-Proficient in Alteryx.
Role
I am a Ph.D. Informatics student, School of Engineering and Informatics
Qualifications
Master of Science in E-Business-MIS Dep- College of Business Administration (King Saud University 2016)
Bachelor of Computer and Information Sciences specialty computer applications (King Saud University 1998).
Activities
Machine Learning Engineer Nanodegree Udacity – 24 Nov 2018

Data Science course at MiSK Academy 10 weeks with General Assembly.

Python Programmer Track with DataCamp – 3 Oct 2018

Training program on Data Science with R ScholarsPro– 9-16 Nov 2018

Connect Intensive – Business Analyst Nanodegree Program from Udacity – 24 May 2018

PyData London 2018 – 27 to 29 April 2018

Course in Women in Positions of Leadership in BRUSSELS World Customs Organization§ Course in Data Models World Customs Organization.

Course in Systems Development Kit World Customs Organization

Institute of enrollment "High Tec" in Canada and attend the program "systems developer" for a year

Microsoft Certified Application Developer - MCAD

Designing and implementing databases with Microsoft SQL Server 2000 Enterprise Edition.

Analyzing requirements and defining Microsoft net solution architectures.

Developing and implementing windows and with Microsoft Visual basic.net and Microsoft Visual studio.net.

Microsoft Certified Solution Developer - MCSD

Developing and implementing web application with Microsoft visual basic.net and visual studio.net

Developing XML Web services and server components with Microsoft visual basic.net and.net framework From Institute of Management - Java (60 hours), Visual Basic (30 Hours) and SQL (42 hours

Coursein TOT from CTI.

Training Certification by King Abdul Aziz Center for National Dialogue

Training Certification by Customs Training Institute.

Participate in "Journey of Change" course from the center of a circle of self.

Participate in "Electronic Commerce" course in Chamber of Commerce.

Participate in "Writing Skills and Preparation of Reports" course in the Chamber of Commerce.

Participate in "Time Management" course in Arab Organization for Training in SHARJAH.

Participate in "Strategy Update Training" course in ACAD in MALAYSIA.

Development of digital storytelling as a strategy to present an interactive.

Activation iPad application as an Educational tool.

Mobile digital publishing.

Several courses in the dialogue of the homeland Dialogue Center.