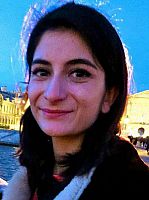 Miss
Yasmin-Cariad Modood
Biography
Yasmin Modood initially received training in Art History from The Courtauld Institute of Art (BA), London, before moving into the field of Cultural Analysis at the University of Amsterdam (MA), in order to pursue an inter-disciplinary interest in aesthetic encounters, spatiality and the cultural imagination. Her research engages with concerns on: sensate knowledge creation and non-rational experience; urban epistemology and memory; inhabitant walking practices; urban cultural consumption; the Creative Cities discourse; and progressive methods in ethnographic research.
Her current working PhD project title is: 'A View Through the Paths of the Museum's Urban Frame: Video Ethnography on the Mobile Visitor's Sensory Encounters with the Urban Public Art Museum.'
Supervisors: Ben Highmore and Simon Rycroft.
Role
Student Researcher
Qualifications
2017-Present - PhD Student in Cultural Studies in Media, Film and Music, University of Sussex
2014-15 - Arts and Culture: Comparative Cultural Analysis (MA), University of Amsterdam: Distinction
2010-13 - History of Art (BA), The Courtauld Insititue of Art: 2:1