Martin Evans
Professor Of Modern European History (History)
E: M.J.Evans@sussex.ac.uk
T: +44 (0)1273 877011
Research
Key Research Books
Algeria: France's Undeclared War, Oxford: Oxford University Press, 2012.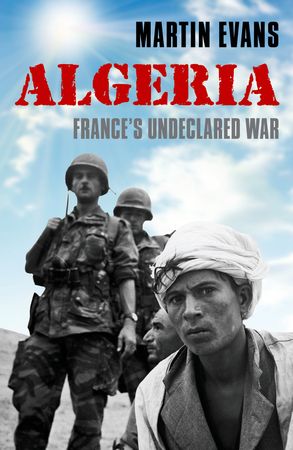 My latest book, Algeria: France's Undeclared War (Oxford: Oxford University Press, 2012), was the result of a Leverhulme Senior Research Fellowship at the British Academy (2007-08) and an AHRC Research Fellowship (2008-09).
The originality of this project lies in the fact that it is the first in-depth consideration of the intensification of the war in 1956. At this point the Socialist led Republican Front government, elected on a platform of peace in the January general election, rejected negotiations with the National Liberation Front (FLN), called up 400,000 reservists and gave the army special powers to eradicate the rebellion. Yet, the fundamental significance of this moment had been ignored with much of the historiography focusing on the end of the war and its legacy. This book, therefore, confronted these lacunae. By charting how the clash of ideas led to the institutionalisation of torture, the use of conscripts, and the ascendancy of the FLN, it demonstrated how this period marked the major turning point which framed the subsequent phases of the conflict. As such the book represents a re-conceptualisation of the war's origins.
It was one of the Financial Times books of the year for 2011 which praised the book thus:
"Easily the best account of the 1954-1962 war of Algerian independence available in English. Evans, a prolific writer on Algerian history, sets new standards in weaving together the metropolitan French and north African threads of the story. Very timely on account of the Arab spring and – so far – Algeria's failure to go the way of Egypt, Libya and Tunisia." (http://www.ft.com/cms/s/2/ebf6c124-1468-11e1-85c7-00144feabdc0.html#axzz34FcBmSCV)
It was also a New Statesman paperback of the week 15-21 March 2013.
The book was also widely reviewed:
'Excellent.' The Economist (http://www.economist.com/node/21542171).
'Scintillating.' The Literary Review
'Evans, a master scholar, has produced a comprehensive narrative' Foreign Affairs (http://www.foreignaffairs.com/articles/137574/martin-evans/algeria-frances-undeclared-war-the-making-of-the-modern-world).
'Given Professor Evans's past publications, this reviewer anticipated an excellent book and it fulfilled expectations…This book deserves immediate inclusion in academic and public libraries.' International Journal of Middle East Studies (http://journals.cambridge.org/action/displayIssue?jid=MES&volumeId=45&seriesId=0&issueId=04)
'The comprehensiveness of Evans's coverage is especially impressive given the book's relatively low page count. It is ideally suited for more advanced undergraduate and graduate course work (the bibliography helpfully includes a topical guide to the chief works), and it deserves to widely read in those, and other, contexts.' The Journal of Modern History (http://www.jstor.org/stable/10.1086/670842)
'Based on meticulous research taken from the memoirs of the conflict's key players from both sides and histories of the War published in French, Evans explains the causes and course of the War with great clarity and insight.' Think Africa Press (http://thinkafricapress.com/algeria/review-algeria-france-undeclared-war-martin-evans).
'Evans can always be counted on to provide a nuanced and empathetic look at complex political issues' Small Wars Journal (http://smallwarsjournal.com/jrnl/art/algeria-the-undeclared-war-a-review)
'Evans offers a highly readable narrative history that is enhanced by prose that is as clear as it is precise. The care with which he reconstructs the changing positions and the chronological events during seven years of a "war without a name" is equally impressive.' H-Diplo (http://h-net.msu.edu/cgi-bin/logbrowse.pl?trx=vx&list=H-Diplo&month=1306&week=a&msg=Moq57EbAOu9UA8ONfJ6zkA).
A fine example of academic work with ambitious scope and a robust allegiance to historical justice, the only thing left to hope for is that other historians of Africa will follow in Evans's footsteps and create such engaging reference works for their own areas of study.' Africa Studies Quarterly (http://www.academia.edu/5389183/Review_Algeria_Frances_Undeclared_War_by_Martin_Evans)
Algeria: Anger of Dispossessed (with John Phillips), London: Yale University Press, 2007.
After liberating itself from French colonial rule in one of the twentieth century's most brutal wars of independence, Algeria became a standard-bearer for the non-aligned movement. By the 1990s, however, its revolutionary political model had collapsed, degenerating into a savage conflict between the military and Islamist guerrillas that killed some 200,000 citizens.
This book was the result of an AHRC Research Fellowshio (2002-03) and within this account I and my co-author, the journalist John Phillips, explored Algeria's recent and very bloody history, demonstrating how the high hopes of independence turned into anger as young Algerians grew increasingly alienated. Unemployed, frustrated by the corrupt military regime, and excluded by the West, the post-independence generation needed new heroes, and some found them in the rising Islamist movement at the end of the 1980s. As such we traced the complex roots of this alienation, arguing that Algeria's predicament—political instability, pressing economic and social problems, bad governance, a disenfranchised youth—is emblematic of an arc of insecurity stretching from Morocco to Indonesia. Looking back at the pre-colonial and colonial periods, we placed Algeria's complex present into historical context, demonstrating how successive governments have manipulated the past for their own ends. The result is a fractured society with a complicated and bitter relationship with the Western powers.
It was listed as a Sunday Telegraph book of the year for 2007 by Professor Michael Burleigh.
In an interview with The Browser in August 2011 Professor Marc Lynch, Director of the Institute for Middle East Studies, George Washington University, USA, cited Algeria: Anger of the Dispossessed as one of five key books to understand the origins of the Arab uprisings: " It really captures the sense of society in ferment, of people constantly seeking to assert their rights and demand respect even under a stifling military regime. So for people who think [the uprising] came out of nowhere, if you go back and read a historical study like this you'll be disabused of that view very quickly." (http://fivebooks.com/interviews/marc-lynch-on-origins-arab-uprising)
The book was widely reviewed:
'The gulf between this official myth (which, to this day, sustains a highly unsaintly, corrupt and brutal ruling elite) and the terrible realities experienced by most Algerians for the past four decades, is at the heart of this stunningly important book.' The Sunday Times (http://www.thesundaytimes.co.uk/sto/culture/books/non_fiction/article77563.ece).
"A complex, engrossing portrait of a nation afflicted with many contemporary problems: terrorism, economic inequality, a stalled transition to democracy and the rise of Islamic fundamentalism. . . . Evans and Phillips's clear-eyed tome reveals a fractured society seething under an insecure and oppressive government." Publishers Weekly.
"The early pages of this collaborative effort by a historian and a journalist offer perhaps the best available brief overview of Algeria's history and its 132 years of French rule." Foreign Affairs.
"The chapter entitled 'Political Islam' . . . will be of value to anyone interested in the intertwined issues of identity, religion, and political development in the Arab-Islamic world. It is a succinct and fact-filled summary of the phenomenon called Islamism or fundamentalism in the 1990s that swept across the 'crescent of crisis' from Morocco to Pakistan (and even Indonesia), and that affects the whole world." Washington Times.
"The product of extensive research and courageous reporting, this book combines the best efforts of an academic, Martin Evans, and a journalist, John Phillips, both of whom have many years of experience in North Africa. . . . As this chilling and important book makes clear, [Algeria] remains a country controlled by unelected men who have left most of the population disinherited and at continuing risk of political violence." Washington Post.
'The authors of this passionate, carefully researched history and deeply pessimistic book have firsthand knowledge of the country. It is essential reading for anyone who wants to try to understand why life for most Algerians is worse than before independence, despite mineral resources that could guarantee them a tolerable existence.' French History.
The Memory of Resistance: French Opposition to the Algerian War 1954-62, Oxford: Berg, 1997.
This book, the result of British Academy Research Leave (1996-97), was an oral history of French Resistance to the Algerian War 1954-62. Through the use of extensive interviews, I explored motivations that led a small minority to cross over into underground resistance (hiding Algerian nationalists, passing them across frontiers, transporting money raised from the Algerian community in France for the war effort). In this way the book charts the impact of Third World liberation ideas, personal experiences of French colonialism, memory and the significance of anti-Nazi resistance and anti-Stalinism. It is also a reflection on the theory and practice of oral history.
In 2008 the book was published in French as Mémoires de la Guerre d'Algérie by L'Harmattan.
The book has also been serialised in the Algerian press.
It was widely reviewed:
"Evans's book makes a substantial and original contribution to the growing literature on resistance and memory in twentieth century France." European History Quarterly.
"Evans's first-hand interviews with French 'resisters' and even with some FLN members, and his thorough secondary research, make his study a valuable starting-point for unpacking the complicated strands of this historical moment." Nations and Nationalism
". . . the study provides a vivid portrait, and an understanding 'from the inside' of a specific constituency at a very specific time." Mediterranean Politics


"The Memory of Resistance will be of undoubted interest both to those specialising in the Algerian war and to all those with an interest in oral history." The Journal of Area Studies

"[A] fascinating work of oral history." National Identities

" ... he [Evans] makes an important and original contribution to our understanding of antiwar activism in the modern period." The Journal of Modern History

"I found Evans's use of oral history methodologically rigorous, his interpretations of memory thoughtful and insightful." Reviewed by Sean Field in the Journal of African History
Current Research Projects
I am presently writing a history of contemporary Morocco in the light of the Arab uprisings (Morocco: Embattled Kingdom) that will be published by Yale University Press. This will then be followed by history of the French Empire and its complex aftermaths which will also be published by Yale University Press.