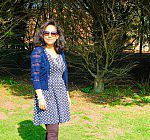 Ms
Nasreen Akhter
Biography
My research interests lie broadly in the field of Gender migration, intersectionality, capital mobility, transnationalism and multi-sited ethnography. I completed my second MRsc degree in Social and Cultural Anthropology from the University of Edinburgh, UK. I had my first degree from Anthropology from Bangladesh and soon after my graduation, I joined as a research assistant in an ESRC funded multidisciplinary project the Waste of the World.
Thesis Title: (Re)Making Lives: An Intersectional analysis on Bangladeshi Migrant Women in the UK.
I am currently conducting my fieldwork both in London, UK and Bangladesh by using the technique/method 'follow the people'.
I am supervised by
Professor Filippo Osella (F.Osellla@sussex.ac.uk)
Professor Raminder Kaur (rk39@sussex.ac.uk)
Role
Research Postgraduate (PhD) in the Department of Anthropology
School of Global Studies.
Contact Nasreen Akhter: N.Akhter@sussex.ac.uk; nasreenshilpi@gmail.com