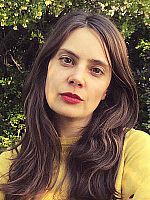 Dr
Mimi Haddon
Biography
I am a popular music historian whose work focuses primarily on the genres of punk, post-punk, alternative, and the avant-garde. My doctoral thesis was completed under the supervision of David Brackett at McGill University in 2015. I worked closely with Will Straw, Georgina Born, and Lisa Barg whose interests in the social mediation of popular music continue to influence my work.
My methodology combines archival research and discourse analysis with approaches borrowed from critical theory and cultural studies. I use an interdisciplinary approach to analyse music with regard to issues of genre, marginalised social identity, processes of cultural legitimation, and media discourse. My book What is Post-Punk?: Genre and Identity in Avant-Garde Popular Music, 1977-82 is in production with University of Michigan Press. I am also working on an edited collection on disco with Sussex colleagues in Drama and Film Studies, and a chapter on Nico for a forthcoming collected edition on the Velvet Underground.
I studied Music at King's College London (2006) for my undergradate degree and completed a Masters in Musicology at St. Anne's College, University of Oxford (2007). I hold a PhD in Music History from McGill University in Montréal (2015). Between 2008 and 2012 I worked intermittently as a journalist, writing for publications such as Dazed & Confused and the Quietus.
I am currently Lecturer in Music here at the School of Media, Film and Music where I teach the following modules: American Popular Music, Music and Society, Introduction to Music Studies, Popular Music Cultures, Advanced Music Studies, History and Practice of Songwriting, Histories of Women in Music, and Music Dissertation.
My current PhD students are:
Nadia Buyse, "37 Bands: Dismantling Hegemonic Concepts of Identity through Nomadic Cultural Activism and DIY" (provisional title), PhD in Creative Practice.
Johnny Hopkins, "Pop Nationalism? Subversion, National Identity, PR, Marketing, War: The Contested Uses, Meanings and Impact of the Union Jack in Popular Music" (provisional title), PhD in Cultural Studies.
Laura Lee, "Post-Rock Compositional and Performace Practice: Authenticity, Liveness, Creativity, and Technology" (provisional title), PhD in Music, co-supervised with the University for the Creative Arts.
Lesley Model, "In the Mix: Locating the Author in the Disco Re-Edit" (provisional title), PhD in Cultural Studies.
Jilliene Sellner, "هيHEYA. Performing Agency: Women, Networks and Experimental Music and Sound in Cairo, Tehran and Beirut" (provisional title), PhD in Cultural Studies.
***
Forthcoming events: Join me and my colleague Andrew Duff on 19th July 2019 for #ladiesofmodular, a day dedicated to exploring women's involvement in music techonology. Roundtable, gig, and DIY workshops for women, non-binary, trans, and girls! In association with the CHASE Feminist Network and the Yorkshire Women in Sound Network. Email me for more information.
Role
Lecturer in Music
Convenor for Music BA