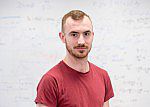 Mr
Reece Saint
Biography
Telephone numbers

Internal:

8780

UK:

01273 87 8780

International:

+44 1273 87 8780
Born and raised in Nottinghamshire, I started my MSci (Foundation + Integrated BSc + MSc) in Physics at the University of Nottingham in 2010, completing in 2015. I work on a number of projects relating to the field of cold atoms both as part of my degree and as summer work. My masters projects lead to a joint publication in the Journal of Physics B: AMO (2017, DOI: 10.1088/1361-6455/50/1/014004).
Outside of academia, I took part in a number of outreach activities (Nottingham Light Night, Outreach Advantage Award Module, and Science in the Park) during my degree. Most of these aimed to bridge the gap between the public and scientists about their work.
After my degree I started my PhD in Nottingham directly, working with Peter Kruger's group on the implementation of 3D-printed structures in cold-atom experiments. With a fellow PhD student we constructed a whole new lab from scratch, using the local expertise from Nottingham's more established labs. In the space of around three to four months we went from nothing to a magneto-optical trap demonstration with a 3D-printed structure replacing the usual anti-Helmholtz coils.
Peter Kruger then moved his group to the University of Sussex, and I moved my project down with him. I am now based in the newly founded group (Quantum Systems & Devices) and am continuing the work I began in Nottingham.
Role

I am a Quantum Systems & Devices (QSD) PhD Student exploring novel manufacturing techniques and structures for use in cold-atom experiments. I am specifically looking at the creation of a cold-atom source with three overarching aims:
Reduction of overall system size
Overall power reduction
Novel current-carrying structures to replace current standards
Qualifications
Undergratuate/Masters
MSci 1st Class with Honours from University of Nottingham in Physics
Activities
See our website!
https://www.sussexquantum.com/