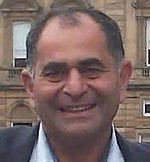 Prof
Maziar Nekovee
Post:
Professor (Engineering and Design)
Other posts:
Head of Department of Engineering and Design (School of Engineering and Informatics)
Location:
RICHMOND 2C08
Email:
M.Nekovee@sussex.ac.uk
Personal homepage:
Linkedin page

Telephone numbers
Internal:
8087
UK:
01273 678087
International:
+44 1273 678087

Research expertise:

5G Mobile Communications

,

Biomimetic Complex Fluids

,

Cognitive Radio/Cognitive networks

,

Complex Networks and Systems

,

Internet of Things (IoT)

,

Internet Protocols

,

Mathematical modelling

,

Parallel Computing Apps - High Performance Computing

,

Quantum Many Body Theory

,

Semiconductor Devices

,

Techno-economical modelling

,

Telecommunications

download vCarddownload vCard to your mobile
Biography
Maziar Nekovee is a Professor of Telecoms and Mobile Technologies and Head of Department of Engineeing and Product Design at University of Sussex since February 2017. He also heads Advanced Communicastion, Mobile Technology and IoT Research Centre at Sussex.
Maziar sits (as the only UK academic) at the EU's 5G Infrastructure Association, where he advises the EC on 5G and beyond-5G Strategic Reseach Agenda. He is also on the steering board of the EPSRC-funded ComNet2 consortium in mobile technologies and the US National Academy of Science (NSF) funded research coordination network on 5G communications and networks.
Prior to joining University of Sussex, he was from 2013 to 2017 a Chief Engineer and Head of 5G reserach at Samsung R&D UK, where he established, led and greatly expanded Samsung's European and UK reserach operations in 5G infrsatrcuture, with a focus on advanced technology development and IP generation (10 5G patents), contributations to 5G standards in 3GPP and industry collaborations and concensu building, as well as working closely with Samsung's Network Business in 5G. While at Sasmung he established and succesfuly led a large (19 partners) industy-led Horizon 2020 consortiuum (5G PPP mmMAGIC) which developed, channel models, acces technologies and architecural components of 5G mobile communication systems and standrads operating in milimetwave frequencies (also known as 5G New Radio, 5G NR)
From 2001 to 2013 he was with British Telcom (BT) Research and Technology, as senior scientist and subsequently a team leader. At BT he carried our and led research in fixed and wireless communication technologies, including IP multicast, WiFi, IoT, cognitive radio and social networks, as well as advising BT's business and stargey units on wireless technology and bidding startgey in 4G spectrum auction.
From 2006 to 2010 he also held a Royal Society (UK Academy of Science) 50% Industry Fellowship at University College London (UCL) while at BT, developing novel platforms for parllel simulations of vehcicular wireless communication networks, with applications in self-driving cars and intelligent transport systems.
Maziar had a PhD in theoretical and computtaional physics (from University of Nijmegen, the Netherland) and a MEng in electrical and electronic engineering (cum laude) (from Delft University of Technology, the Netherlands, with a highly succesful one year reseach internship at Philips Research Laboratories).
His PhD and subsequent postdoc's at Imperial College focused on theory and first-principle calculations of elctronic and optical properties of surfaces and interfaces using density fucntional theory, quantrum Monte Carlo simulations and massively parallel computing. Maziar is the author of over 100 peer-reviewd papers, one best-selling book "Cognitive Radio Communicationa and Networks: Principle and Practice" and has 13 patents in telcommunication and mobile technologies.
Prof. Nekovee is a sought-after speaker at high level industry events, C-level meetings with European operators, policy makers and international conferences. He is an adviser to tech-funds and economists on telecom technology and ICT.
Role
Professor of Telecoms and 5G Mobile Communications
Head of Department of Engineering and Product Design
Head of Advanced Communications, Mobile Technology and IoT Research
Community and Business
Collaboration opportunities for industy, business, SME and tech-funds
I have very significance experience of R&D, technology and service development in telecom and mobile industry secors, and have a deep understanding of industry and bussiness needs. I have an extensive network of indusrtial, business and academic collaborators/contacts spanning the UK, Europe, the Middle East, Asia and the United States. I am ideally placed to work with industry, and businesses. Opoortunities for collaboarations with me and my teams include (but are not limitted to):
Bespoked industry-funded and industry-led research and innovation at the University
Developmet of joint bids to UK, EC and international funding competitions
Full and partial support of PhDs and postdcos carrying out industry and business-led research
Knowledge Tansfer Partnerships
In-kind support for and sponsorship of research (equipments, staff time etc)
Technical and techno-economic consultancy