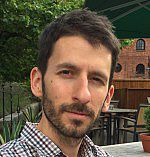 Mr
Benoit Guilbaud
Biography
I work as a Teaching Fellow at the Sussex Centre for Language Studies (SCLS), where I teach French language and translation on degree courses in Languages, Language elective pathways and Open Language courses.
Previously, I worked at the University of Manchester (2012-2016) and Manchester Metropolitan University (2007-2012).
I did my MA and BA at the Université Blaise-Pascal in Clermont-Ferrand (France), I obtained a PGCE from Cardiff University and a PGCAP from Manchester Metropolitan University.
I have previously taught on modules in French for medicine, business and law, as well as general French language, translation and interpreting. I have presented at a number of conferences on the topics of language teaching, digital literacy and networked learning.
I was voted 'Most Innovative Lecturer' at the Manchester Student Union Teaching Awards 2014 and 'Most Appreciated Lecturer' by the Manchester Medical School student rep team in 2016.
I occasionally tweet as @BenGuilbaud.