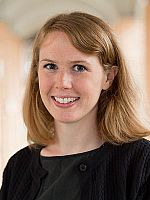 Dr
Helen Tyson
Biography
I joined Sussex in September 2016 as a Lecturer in Twentieth and Twenty-First Century British Literature in the School of English, where I am also a co-director, with Sara Crangle and Hope Wolf, of the Centre for Modernist Studies. I am currently working on my first monograph, Reading Modernism's Readers: Modernism, Psychoanalysis, and the Bestseller. This book focuses on the figure of the reader in modernist literature, early twentieth-century popular culture, and psychoanalysis. I am also working, along with Shaul Bar-Haim and Elizabeth Coles, on a co-edited collection of essays on Psychoanalytic Thought, History, Cultural and Political Life.
I welcome PhD proposals on: modernism; Virginia Woolf; Marcel Proust; Sigmund Freud; Melanie Klein; British psychoanalysis; psychoanalysis and literature; modernism and psychoanalysis; popular and 'mass' culture in the early twentieth century; twentieth-century romance fiction; theories and histories of reading; post-WWII British Writing; modernism and childhood; literature and childhood.
I have published on modernism's child readers in Textual Practice, and am co-editor, with Niall Gildea, Helena Goodwyn, and Megan Kitching, of English Studies: The State of the Discipline, Past, Present, and Future (Palgrave, 2015). Alongside my research I also enjoy literary journalism, and have written reviews including:
Before coming to Sussex, I taught modernism, literary theory, psychoanalysis and literature, and poetry at Queen Mary University of London.