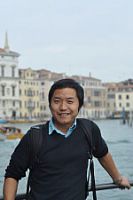 Dr
Kun Liang
Biography
Dr Kun Liang is a lecturer at the Department of Engineering and Design, University of Sussex since 2016. He is Harry Kroto Research Fellow of 2017 hosted by the KTH Royal Institute of Technology, Sweden. He is Visiting Fellow of the University of Oxford since 2016 hosted by Combustion & Cryogenics Groups. He is a Common Room Member of Wolfson College, Oxford since 2010. Dr Kun Liang received his D.Phil. (Ph.D.) from the University of Oxford in 2014, where he stayed as a Post-Doctoral Research Assistant until 2016. He was supervised by Prof Richard Stone during his 6 years at Oxford. He holds a M.Sc. and a B.Eng. in Vehicle Engineering from Tongji University and Jiaotong University respectively. He gained industry experiences from SAIC Volkswagen Automotive Co., Ltd. as a Product Engineer in 2010 and Bosch Automotive Diesel Systems Co., Ltd. as a CRS Test Engineer in 2009.
Dr Kun Liang's areas of research are: combustion engine and alternative fuels, linear machines and control, and Stirling/pulse tube cryocooler. His work have been published in high impact journals, including Fuel, International Journal of Refrigeration, Energy and IMechE. He is a Member of the Society of Automotive Engineers (SAE), the Cryogenic Society of America (CSA), and the International Institute of Refrigeration (IIR). His research aim for low emission high efficiency combustion systems and low cost high efficiency cryogenic/refrigeration systems.
Dr Kun Liang is accepting applications for PhD students. Please get in touch if you are interested in his areas. New ideas are particularly welcome. Current research projects include Sussex LEAD camless engine with LAPS sensor, Autoignition of Hydrous GEM (Gasoline-Ethanol-Methanol) fuel, STPTC (Stirling type Pulse Tube Cryocooler) and MORe (Microchannel Oil-free Refrigeration) system. Projects are funded by Sussex internal fund, EPSRC and industry.
If you are an undergraduate student, you may get in touch to work on small project with Kun.
If you are from industry, Kun's research expertise may help you solve problems.
Role
Lecturer in Mechanical Engineering