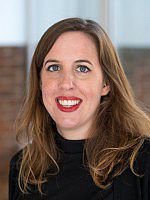 Dr
Laura Kounine
Post:
Senior Lecturer in Early Modern History (History)
Other posts:
Lecturer in Early Modern History (Centre for Early Modern and Medieval Studies)
Location:
ARTS A A129
Email:
L.Kounine@sussex.ac.uk

Telephone numbers
Internal:
8052
UK:
01273 678052
International:
+44 1273 678052

Research expertise:
download vCarddownload vCard to your mobile
Biography
I completed my PhD at the University of Cambridge, under the supervision of Professor Ulinka Rublack, on the gendering of witchcraft in early modern Germany. Between 2013 and 2016, I was a post-doctoral Research Fellow at the Centre for the History of Emotions at the Max Planck Institute in Berlin. I have also held a visiting lectureship at Royal Holloway, University of London. In 2014, I was an Early Career International Research Fellow at the ARC Centre of Excellence for the History of Emotions at the University of Melbourne, and since then have co-convened two joint international conferences with the ARC Centre of Excellence for the History of Emotions in Melbourne on 'Witchcraft and Emotions'. I joined the University of Sussex as Lecturer in Early Modern History in Autumn 2016.
My research has focused on gender, emotions, selfhood, crime and conflict and early modern witch trials. I'm also interested in methodological and conceptual approaches to history, particularly relating to emotions, gender, selfhood and subjectivity, and the use of historical self-narratives.
I have published an article on the gendering on witchcraft in German History, and I have co-edited two books, one with Stephen Cummins on Cultures of Conflict Resolution in Early Modern Europe (Routledge, 2016), and the other with Michael Ostling on Emotions in the History of Witchcraft (Palgrave, 2017). I am also the co-editor, with Gian Marco Vidor, of a Special Issue on 'Law and Emotions', forthcoming in the Journal of Social History (2018). My monograph on Imagining the Witch: Emotions, Gender and Selfhood in Early Modern Germany is forthcoming with Oxford University Press.
I am also co-editor of the online platform History of Emotions: Insights into Research https://www.history-of-emotions.mpg.de/en
In 2017 I was awarded a British Academy Rising Stars Engagement Award for an event on 'Subjectivity, Self-Narratives and the History of Emotions'.