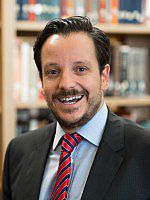 Dr
Dimitris Ziouvas
Post:
Reader in Criminal Law and Compliance (Crime Research Centre)

Research expertise:

Anti-corruption

,

Arab GCC Countries

,

business crime

,

comparative criminal law

,

compliance law

,

Corporate Criminal Liability

,

corporate governance

,

Criminal law and criminal justice

,

Ethics & Corporate Social Responsibility

,

International Financial Criminal Law

,

organised crime

,

Sports Integrity

,

Sustainable development

download vCarddownload vCard to your mobile
Biography
Dimitris Ziouvas is a Reader in Criminal Law and Compliance at Sussex Law School. He is the Director of the International Anti-Corruption Masterclass (IACMA, Qatar, @iacmasterclass) and the Deputy Director of the LLM in "Corruption, Law and Governance", which is being delivered in cooperation with the Rule of Law and Anti-Corruption Centre (ROLACC) in Doha, Qatar. Dimitris studied law in Greece (LLB, University of Athens) and Germany (LLM, University of Freiburg i.Br., and Doctor of Jurisprudence - Dr. iur.-, University of Cologne) before holding an adjunct lectureship at the University of Peloponnese (Greece) and a Professorial title in Criminal Law at Panteion University of Athens.
Dimitris' world leading anti-corruption research and innovative community work with the Eurasian Integrity Academy (EURIA) has been awarded in 2016 with the prestigious international United Nations Sheikh Tamim Bin Hamad Al Thani Anti-Corruption Excellence Award delivered by the UN Secretary-General Ban Ki-moon and H.E. the Emir of Qatar. Dimitris' civic and scholalrly engagement in the fileds of integrity ethics and sustainability has attracted much international and local media attention (Al Jazeera, BBC, Sussex News). His research to date has resulted in multiple fellowships (Hellenic Scholarships Foundation, German Academic Exchange Service-DAAD, Scholarships Fund of the German Federal State of North Rhine-Westphalia), and further prestigious academic awards including the Tokyo Foundation Young Leaders Award and the Alexander Onassis Public Benefit Foundation Academic Award (for his doctoral thesis on capital markets criminal law, 2004).
Dimitris has conducted research for the European Academy of Law (Germany) and the Ludwig Boltzmann Institute for Human Rights (Austria) as a project lawyer in European Criminal Law and Human Rights. His has led European Union funded research projects including: "Provision of technical assistance for strengthening public awareness on Anti-Corruption" and "Provision of technical assistance for strengthening the involvement of the private sector in Anti-Corruption awareness raising through public-private partnerships".
Dimitris is the editor-in-chief of the "Series on Criminal Law, Criminal Policy and Human Rights" of the Center of Criminal Sciences of Panteion University, an International Anti-Corruption Academy alumnus, as well as a member of the Association of Certified Fraud Examiners, the Sussex Centre for the Study of Corruption and the Sussex Crime Research Centre.
Community and Business
Dimitris serves as a member of the Academic Council of the Academy of Transparency and Human Rights of the European Public Law Organization. He has been a member of the Advisory Board of the Greek Anti-Corruption Authority (by Prime Minister΄s appointment). His criminal policy consultancy work on fighting corruption and promoting the rule of law has been endorsed and adopted by the Greek Anti-Corruption Authority. He is the founder and President of the non-profit Civil Society Network "Anti-Corruption Youth Greece". Dimitris regularly represents States and international organizations at international anti-corruption fora (United Nations, Council of Europe, OECD, ICC) with a special focus on the United Nations Convention against Corruption (Implementation Review Group, Conference of State Parties to the UNCAC). He is a regular member of the Anti-Corruption Academic Initiative of the United Nations Office on Drugs and Crime (Vienna, Austria).
Dimitris has served as President of the Young Penalists Committee, and as a member of the Board of Directors and the Scientific Committee of the International Association of Penal Law (AIDP). He is a CEDR accredited mediator and the President of the Hellenic Institute of Certified Mediators and Arbitrators.
Dimitris has practiced financial criminal, compliance and corporate governance law for over 15 years and is currently admitted as a lawyer before the courts of Greece (Hellenic Supreme Court, State Council and Court of Audit) and Germany. He has worked as a compliance officer and an ombudsman for publicly traded companies and has consulted multinational corporations and state authorities on sustainability and integrity governance, compliance and capacity building.