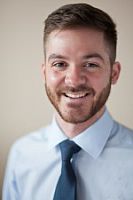 Mr
Adam Koscso
Biography
I am currently working on my PhD studies since 2016 September in the field of mechanical engineering. The project focuses on the sensitivity and uncertainty of the dynamic deformation of gas-turbine bladed disks with friction joints. The point of interest is on the mistuning effect of the variation of the anisotropic material properties from blade to blade in a bladed disk assembly. A new method is developed using computational (FEA) tools for quantifying the effect of material anisotropy mistuning for modal properties.
In the next step the non-linear forced response of the mistuned bladed disk structures with friction joints are being analyzed.
The research project is carried out with the support and funding of MTU Aero Engines and the School of Engineering and Informatics at the University of Sussex.
Role
PhD candidate in Engineering (School of Engineering and Design) (Dynamics, Control, and Vehicle Research Group)
Qualifications
2013 - 2016 MSc Computational Mechanics, Technische Universität München, Munich, Germany
2009 - 2013 BSc Mechanical Engineering, Budapest University of Technology and Economics, Budapest, Hungary