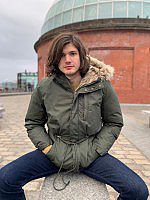 Mr
Mitchell Longan
Biography
I began my undergraduate studies at the Savannah College of Art and design before ultimately transfering to Mercer University and graduating with a B.A. in Psychology and Studio Art with a painting and printmaking emphasis. After university I spent a year working as an artist before enrolling in law school at Tulane University. In law school I focused my studies on aspects of the law that intersected with the creative world- intellectual property, cultural heritage, copyright, and entertainment law. While attending law school I worked for an appelate judge, the Cambodian government, a private law firm, and a non-profit that provided free legal aid to local creatives who could not afford representation.
I came directly to Sussex after finishing my J.D. with the intent to further my existing research in copyright law and user-generated content.
Role
Doctoral Researcher
Doctoral Tutor
Qualifications
Current: Ph.D. in Law Studies - Ongoing - University of Sussex - Brighton, England
2013-2016- J.D. - Tulane University School of Law - New Orleans, LA, U.S.A.
2010-2012 - B.A. in Psychology and Studio Art - 2012 - Mercer University - Macon, GA, U.S.A.
Activities
I have presented the following papers at conferences and workshops:
Aesthetics of Technology, Copyright, and Content- Art and Law Research Cluster, PhD Workshop: University of Sussex- March, 2017
The Revolution of User-Generated Content: A Critical Analysis of the Inadequacy of Fair Dealings in the United Kingdom with Respect to User-Generated Content Through Comparison to Legal Counterparts in The United States and Canada - Billeta Conference - April 2017, Queen Mary Graduate Law Conference - June, 2017
Take us to Red Alert: How Tolerated Use has Become the New Norm of Copyright Regulation for Fan Works Through the Scope of the Axanar Case and Others - GIKII 2017
Private Sector Solutions as Copyright's Crutch: The Creative Commons and Tolerated Use - Bileta Conference- April, 2018, IP in Transitions: (Re)Imagining Intellectual Property, University of Exeter- April, 2018