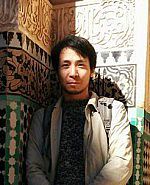 Mr
Haozhan Sun
Biography
I am currently pursuing my PhD at the University of Sussex. I completed my MA at Sussex in 2017.
My research interest is mainly focused on contemporary literature and existentialism. In addition to creative writing, I am also interested in Marxism and the Frankfurt School.
Besides PhD research, I have undertaken many jobs related to literature in China. I was the Executive-Editor of Reader Appreciation: UP. Additionally, I was the Executive Editor-in-Chief of the magazine, Minsheng Arts.
I also serve as a freelance writer for several magazines in China, since I am always enthusiastic and passionate about fiction writing.
Role
PhD researcher in English
Thesis Title: On the Genealogy of Existential Literature from the 19th Century to the Present.
Project Description: I will bring texts labelled as "existentialist" into this thesis, which will accommodate Nietzsche's methodology to build a genealogy. This thesis will examine the original meaning of the very concept in the existential texts in order to reveal its underlying structure, which I contend has deeply shaped people's common understanding of existentialism. Thereby it will propose, through the re-examination of existentialism, a potentiality for the rejuvenation of existentialism as a method to tackle our contemporary humanist dilemma.