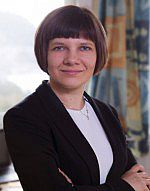 Dr
Galina Goncharenko
Biography
Galina Goncharenko is a Lecturer in Accounting at the University of Sussex since August 2016.
She holds a PhD in Accounting (2016) and an MSc in Economics and Business Administration (2013) from the Norwegian School of Economics. She previously held visiting positions at the London School of Economics and the University of Wageningen (the Netherlands).
Her research interests cover the accountability of advocacy and empowering NGOs and social movements, mutual accountability in NGO-business partnerships and the utilisation of social networking platforms for accountability discourse.
Role
Lecturer in Accounting
Accreditation Officer