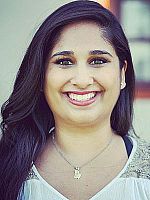 Miss
Shonali Banerjee
Biography
Shonali is a doctoral researcher in International Development at the University of Sussex, studying the effects of philanthropic crowdfunding platforms on non-governmental organizations (NGOs) in India. Before returning to academia, Shonali spent 5 years working in the NGO sector in the United States, Morocco, Thailand, and Cambodia. Her current research interests include new media in development, ICT4D, private/public partnerships (PPP), philanthropic aid, corporate social responsibility, and political economy of aid. Shonali holds a BA in International Affairs and Political Science from the George Washington University (2011), and a MSc in Development Studies from SOAS, University of London (2015).
In addition to her research, Shonali serves as a Doctoral Tutor for the undergraduate modules 'Social Change, Culture, and Development' and 'Key Thinkers in Development', and is the Tutor Rep for the School of Global Studies. Shonali has also been the School's Social Media Manager since May 2018. She welcomes contact from any members of the Global Studies community regarding social media coverage from the School.
Shonali's office hours are Tuesdays 1-2pm and Fridays 10-11am in Arts C333b, or by appointment.
Role
Doctoral Researcher
Qualifications
PhD in International Development, University of Sussex (exp. 2020)
Associate Fellowship of the Higher Education Academy (2019)
MSc Development Studies, SOAS University of London (2015)
BA International Affairs and Political Science, The George Washington University (2011)