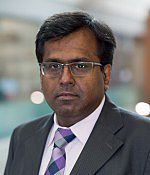 Dr
Nachiappan Subramanian
Biography
Dr Nachiappan (Nachi) Subramanian is a Reader in Operations and Logistics Management at University of Sussex. Nachi is a Senior Fellow of Higher Education Academy, UK. Previously, Nachi worked at University of Nottingham Ningbo, China for five years and at Thiagarajar College of Engineering, Madurai, India for twelve years. He has 18 years of academic experience and 2 years of industrial experience. He conducted his post-doctoral research at University of Nottingham, United Kingdom under BOYSCAST fellowship program and received Australian Endeavour Research Fellowship Award. He obtained career award and young scientist fellowship award from Indian government agencies to augment his research on supply chain modelling.
Nachi has published over 80 articles in refereed journals. He guest edited several special issues in leading operations management journals. Currently he is involved in projects such as sustainable business model development, cold chain network optimisation, eco-innovation in emerging economies and ambiguous threats in supply networks. In his previous assignments, he contributed at various levels to successfully secure and complete eight research grants.
Nachi has supervised several undergraduate students' dissertations, fifty five post graduate dissertations and nine PhD student theses.
Role
Reader in Operations and Logistics Management & Supply Chains.
Deputy Subject Group Lead - Operations & Technology Management.
Course Convenor - MSc Global Supply Chain and Logistics Management
Senior Fellow of Higher Education Academy, UK.
Community and Business
Nachi has rich experience in executive education including teaching V&A Museum Master Class and Chinese Railway executive CRRC programmes. In addition, he has engineering project management consulting experience at process industry. His case titled "Supply chain optimization at Madurai Aavin Milk Dairy" has been reported as the second largest selling Harvard cases in India. His media article on delivery drones published by China Daily received many hits.
http://www.tmcnet.com/usubmit/2014/06/10/7869285.htm
Nachi's recent research article published in the International Journal of Operations and Production Management has reached wider audience and is trending as a popular article.
http://www.emeraldinsight.com/doi/full/10.1108/IJOPM-03-2015-0153