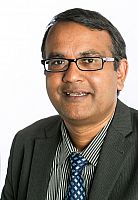 Prof
Iqbal Khadaroo
Biography
Professor Iqbal Khadaroo has over 20 years of experience teaching accounting to undergraduate and postgraduate students, and practitioners. He previously taught at Queen's University Belfast and University of Essex, and held visiting positions at Nottingham University Malaysia and Curtin University Malaysia.
He completed a PhD in Accounting from Queen's University Belfast in 2005, a chartered certified accountancy examination (ACCA) in 1996, and an MBA in 1999. Prior to joining academia, he worked as auditor for Deloitte and group financial controller for Banque National de Paris.
His research is concerned with examining the 'disciplinary effects' of accounting on individuals, organisations and society. He adopts a political economy theoretical framework for providing insights into the accountability and performance implications of accounting and its institutional structures. Issues of power-relationships, visibility and transparency are important themes in his critical research which attempts to change the status quo by raising awareness and questioning taking for granted practices by asking: 'why' we do what we do?
Professor Iqbal Khadaroo welcomes enquiries from potential PhD students who intend to use a critical theory framework to investigate accountability, performance management, risk management and governance issues when delivering public services through public private partnerships programmes.
In this respect, potential PhD students are advised to identify an important, interesting and novel area they are interested to contribute to, and write a proposal of mutual interest, by conducting a thorough review of recent research published in high quality journals such as Accounting, Auditing and Accountability Journal, Critical Perspectives on Accounting, Accounting Organisations and Society, Financial Accountability and Management, Management Accounting Reseach and British Accounting Review. Students adopting a functionalist or positivist approach (as opposed to a critical or interpretive approach) are advised to contact other supervisors undertaking this type of research by reading their published research outputs.
Role
Professor of accounting.
Head of accounting group.