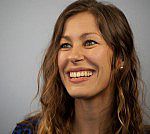 Dr
Sonja Ayeb-Karlsson
Post:
Visiting Researcher (Brighton and Sussex Medical School)
Location:
ARTS C
Email:
S.Ayeb-Karlsson@sussex.ac.uk
Personal homepage:
UNU-EHS Webprofile

Research expertise:

(im)mobility

,

Adaptation

,

Bangladesh

,

Brazil

,

Cape Verde

,

climate and development

,

Climate change

,

Climate change adaptation

,

climate policy

,

Climate risk management

,

Conflict and violence

,

critical discourse analysis

,

Cultural and Critical Theory

,

cultural studies

,

culture and health

,

Decision making

,

Development studies

,

Disaster displacement

,

Disaster risk

,

Disasters

,

Discourse analysis

,

Environment And Health

,

Ethnography And Anthropology

,

Forced migration

,

Foucault

,

gender

,

Global health

,

health and migration

,

health behaviour

,

health risk perceptions

,

Health, culture and development

,

Human Geography

,

Identity

,

India

,

International Development

,

Life History

,

Loss and Damage

,

Mental Health and Well-Being

,

Migration

,

migration and development

,

Migration and diaspora

,

Migration and Mobility

,

Non-economic loss and damage

,

postcolonialism

,

Q

,

Rural Livelihoods

,

Socio-cultural perceptions

,

Storytelling

,

Sustainable development

,

Sustainable Livelihoods

,

Trapped Populations

download vCarddownload vCard to your mobile
Biography
Dr. Sonja Ayeb-Karlsson is a Lecturer in Global Health at BSMS, University of Sussex who researches (im)mobility decisions, migration, health and wellbeing in the context of environmental stress and climatic changes. She is also a Senior Researcher at UNU-EHS and part of WG1 and WG2 in the Lancet Countdown.
Between the years of 2013 and 2018 she worked in Bangladesh as a project manager in collaboration with ICCCAD and MRF. Her research combined quantitative and qualitative methods such as Q, survey design, storytelling methodology, personal life history interviews and discourse analysis with the aim to further develop anthropological research approaches that support the interaction with people facing climatic stress, while exploring alternative ways to communicate research findings through mediums of photography, visual communication and photo films.
Prior to this, she was involved in a community-led initiative in Argentina that focused on the empowerment and human rights of ethnic minority groups in the northern areas of the country. She was selected to represent Stockholm on the national board of the Swedish Association of International Affairs in 2008. While completing her university studies in Brazil, Dr. Ayeb-Karlsson dedicated a considerable amount of time to urban development and educational initiatives in Rio de Janeiro's favelas. At the Swedish Embassy in Brazil, she was responsible for organising a seminar on Corporal Punishment of Children with the Ministry of Human Rights and Save the Children Sweden in the Brazilian National Congress in 2011. Discussions following the seminar lead up to the agreement of a new article on Corporal Punishment Prohibition in 2014 which made Brazil the largest country in the world to sign such a prohibition.
Including Bangladesh, Germany, Argentina and Brazil, Dr. Ayeb-Karlsson has also lived, worked, and studied in England and Australia. She also has extensive international experience, having visited about 65 countries and has spent a large amount of time in South America, South- as well as Southeast Asia. She is fluent in English, Swedish, Spanish and Portuguese with basic language skills in German and Bengali.
In 2015 she joined the work of the Lancet Commission and the Lancet Countdown that is tracking the connections between climate change and public health until 2030. Here she is part of WG1 and WG2 and mainly studies the linkages between climate change, mental health, migration and disasters, she is also the Latin- and South American spokesperson and work closely with the Brazilian partner organisations in São Paulo and Porto Alegre.
Dr. Ayeb-Karlsson is well-published including peer reviewed articles in Ambio, Disasters, Sustainability Science and the Lancet. Her teaching in the area of Global Health, Geography and Development Studies at BSMS, University of Sussex, and IDS include the following Undergraduate courses: Environmental Management and Sustainable Development (L7003), Disaster, Environment and Development (005DA), Skills and Concepts in Geography I-II (002GR / F8509) and the Postgraduate Master courses Climate Change: Impacts and Adaptation (838F8), and Climate Resilient Development (CRD), at University of Sussex and IDS, as well as the Postgraduate Master courses: Global Health Msc (BSMS), Risk Management in the Context of Climate Change (UM6 / JM9-2) at University of Bonn and UNU-EHS.
Role
Dr. Sonja Ayeb-Karlsson is a Lecturer in Global Health at BSMS, University of Sussex who researches (im)mobility decisions, migration, health and wellbeing in the context of environmental stress and climatic changes. She is also a Senior Researcher at UNU-EHS and part of WG1 and WG2 in the Lancet Countdown.
Qualifications
Education
Appointments
2015-2030: Lancet Countdown: Tracking the connections between public health and climate change
2008-2009: Member of the Swedish Association of International Affairs Board
2006-2009: Member of the Stockholm Association of International Affairs Board
2008: Stockholm Model United Nations
Activities
Listening to those on the frontline
As part of my research, I have listened to the stories of those who know best what it is like to live on the frontlines of climatic stress and disasters in Bangladesh. Through the research, we interviewed people in seven study sites across Bangladesh about the impacts on their lives, livelihoods and wellbeing due to the environmental stress they are facing.

When embarking on this journey, I asked myself: how can one make sure that the stories of these people are listened to? In experimenting with how to visually communicate our research findings we worked with our respondents to produce photo film documentaries. These videos are joint efforts that can be viewed below:
Photofilm teaser: Introducing the informants
Bhokul's Story: The day my soul ran away
Bhokul's life underwent a major change in the 1960s, when her family lost a large part of the family land to riverbank erosion. She describes how before the riverbank eroded, her family never had to worry about how to put food on the table, but as a result of riverbank erosion, the family became poor. Dalbanga South, where Bhokul and her family have lived for generations, is located in the southern coastal area of Bangladesh. Here, floods and cyclones are common events (see This Bangladeshi woman can tell you why the latest round of climate talks matter).
Nurmia's Story: If we had left earlier...
When we arrived the man, Nurmia, welcomed us. We sat down on the bamboo carpet. "I was born about 70 years ago", he said, on the mainland, in a place called Ogolbadi. Nurmia left home after a dispute with his brothers over the family's land, so he crossed the river to Mazer Char, hoping to build a new life (see Facing disasters: lessons from a Bangladeshi island).
Sahia's Story: We cannot afford honour
Sahia has agreed to talk to us about the ways climate change and environmental stress are influencing people's lives. She says that after their wedding, she moved in with her husband and father-in-law. Her new home was Singpur – a riverside village in central Bangladesh, only a couple of hundred kilometres from the capital, Dhaka. She had been living here for about a year when she witnessed her first home collapsing into the river (see Climate change and migration in Bangladesh -- one woman's perspective).
Muzaffar's Story: Hard work and a harvester machine
From Sudan to Syria to Bangladesh, climate change is often presented as a powerful and simple root cause of violent conflict and mass migration. These narratives can be dangerous. Directly linking climate change with aggression and mass migration risks dehumanising those vulnerable to environmental stresses, and casts their attempts to escape a problem caused by mainly rich nations as a security threat. 55-year-old Muzaffar from Babupur in the north-east of the country – perfectly illustrates this complexity. In order to truly defend his future, and that of countless others in similar positions, we must understand and tackle structural and social causes of conflict (see This Bangladeshi man's story shows why linking climate change to conflict is no simple matter).
More blog articles
How Climate Change is affecting Our Mental Health
Published online on HuffPost (04.02.2019)
The Conceptual Birth of Trapped Populations and the Danger of Using it as a Policy Tool
Published online on TransRe (26.09.2018)
A Climate Migrant's Story from an Urban Slum in Dhaka
Published online on OurWorld (16.11.2016)
What money cannot buy back: non-economic loss and damage
Published online on UNU-EHS (02.02.2016)
Nepal Earthquake: Preparing and Planning for the Next Disaster
Published online on OurWorld (02.07.2015)
No Need for Luck to Survive: Why We Should Care about Disaster Risk Reduction
Published online on OurWorld (12.05.2015)