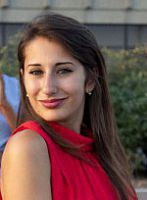 Miss
Silvia Anderle
Biography
Graduated from BSc Neuroscience (Hons) with a First Class degree from the University of Sussex, I moved to London to study an MSc in Dementia at UCL where I graduated with a Distinction. I am currently undergoing a doctoral research project investigating the link between APOE4 and Alzheimer's disease in the laboratory of Dr Catherine Hall at the University of Sussex. In the meantime, I am collaborating with the laboratory of Dr Nicola Hamilton at King's College London.
I am a Postgraduate Student Rep for the School of Psychology.
Role
Doctoral researcher investigating the effect of APOE genotypes on neurovascular coupling and Alzheimer's disease development.
Qualifications
Current DPhil Psychology, University of Sussex
2018-2019 MSc Dementia: Causes, Treatment and Research, UCL
2015-2018 BSc (Hons) Neuroscience, University of Sussex