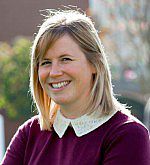 Dr
Katy Petherick
Biography
I have been the Wellcome Trust ISSF Public Engagement Coordinator at the School of Life Sciences since September 2015. Prior to this position, I was a cancer researcher for 6 years (PhD, University of Bristol, 2008-2012; Postdoctoral Researcher, University of Dundee, 2012-2014) and during this time worked with CRUK Research Engagement teams. I have experience in running workshops for primary school children, having worked with Mad Science (Bristol) and Curiosity Hub (Brighton). I am also familiar with overseeing mass participation events, having managed components of Race For Life events during the 2014 and 2015 seasons.
Role
As the public engagement lead for the School of Life Sciences, I coordinate and support a range of public engagement activities:
• Provide guidance on public engagement for staff and students; supporting them in developing their own engagement opportunities/activities
• Build partnerships with internal and external individuals and organisations to enable opportunities for engagement with staff and students (e.g. school visits, science festivals, city-based activities, lab tours, training)
• Liaison with senior staff to promote public engagement culture change
• Develop resources to support researchers in public engagement activities
• Create content for School webpages, including media accessible to the public
• Support research and public engagement grant applications
• Prepare written reports of public engagement activities
• Design, deliver and organise public engagement training for staff and students: 'Introduction to public engagement', 'Embedding public engagement into research', 'Evaluation of public engagement'
• Responsible for developing the School's public engagement strategy
• Develop and maintain relationships with research and professional services staff
• Design and deliver monitoring and evaluation programmes
• Budget management, including overseeing internal public engagement grant applications
Community and Business
In addition to my current role, I support science in the local community through various volunteer activities:
Co-founded the British Science Association Brighton and Hove branch, organising events such a SciScreens (film screenings with related science activities) and community events
Co-founded STEMbusters, a social meet-up for people who are involved in science communication.
Co-founded Soapbox Science Brighton, promoting Women in STEM.
Supporting the initiative Out and About STEM, promoting LGBTQ+ in Life Sciences.