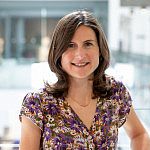 Dr
Judith Townend
Biography
Dr Judith Townend is a socio-legal researcher, specialising in freedom of expression and access to information.
She is senior lecturer in media and information law in the School of Law, Politics and Sociology (LPS) at the University of Sussex.
Before joining the University of Sussex, she was lecturer in information law and the director of the Information Law and Policy Centre at the Institute of Advanced Legal Studies, within the School of Advanced Study at the University of London.
During her time there she devised and led a wide range of research activities and events, with a remit to promote and facilitate research on information law within and beyond the UK. Projects included, for example, co-ordinating a research group that undertook a review of the draft Investigatory Powers Bill; running training for PhDs and early career researchers on digital and legal issues and public/policy engagement; and leading a series of events on the 'Humanity of Law' at venues including the UK Supreme Court and the Inner Temple.
Prior to joining the IALS, Judith was a lecturer in City University London's department of journalism, and research associate at University of Westminster on an AHRC-funded project looking at media plurality and ownership. Her doctoral research, based at the Centre for Law, Justice and Journalism (CLJJ) at City University London, examined defamation and privacy law and its relationship with journalistic practice in England and Wales.
Her work on media, communications and information law is interdisciplinary and uses socio-legal methods and approaches from the social sciences and humanities to understand legal and policy developments. Her research covers a range of legal and social topics connected by a common theme of public access to information, and she has a particular interest in open justice and access to courts data. Most recently, she has been leading an initiative considering source protection in digital environments, involving journalists, campaigners and lawyers.
She was co-editor of Media Power and Plurality (Palgrave Macmillan, 2015, with Steven Barnett), and has written for a range of academic journals and media publications.
Role
Senior Lecturer in Media and Information Law
Community engagement lead, School of Law, Politics and Sociology
Deputy Director, Sussex Centre for Information Governance Research
Community and Business
Member of the Transparency Project group, a charity that works towards improving the quality, range and accessibility of information from the family courts available to the public
Member of the Sanctuary on Sea steering committee, a local group that is part of the national City of Sanctuary movement committed to building a culture of hospitality and welcome, especially for refugees seeking sanctuary from war and persecution