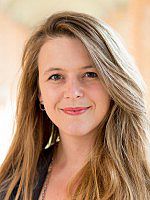 Dr
Hope Wolf
Biography
My research specialism is in modernism, particularly in the visual arts and literature, and I am particularly keen on projects that explore the complexities of the relationship between life and art. I enjoy curating exhibitions, and in recent years have I have worked with museums and galleries to make my research more widely available. I am co-Director of the Centre for Modernist Studies and Associate Director of the Centre for Life History and Life Writing Research.
Current Research
I am currently working on two research projects:
1. I am researching the joint-biography of the surrealist and psychoanalytic couple Grace Pailthorpe and Reuben Mednikoff, and am curating an exhibition of their work that opened at the De La Warr Pavilion, Bexhill, in October 2018 and will tour to Camden Arts Centre, London, in April 2019, with Rosie Cooper, Martin Clark and Gina Buenfeld. Its title is 'A Tale of Mother's Bones: Grace Pailthorpe, Reuben Mednikoff, and the Birth of Psychorealism'; a catalogue is being produced to support the show. For more see: https://www.dlwp.com/exhibition/tale-mothers-bones-grace-pailthorpe-reuben-mednikoff-birth-psychorealism/
2. I am also in the process of writing a book on Sussex Modernism that proceeds from an exhibition I curated at Two Temple Place, London, in 2017. The book explores how and why so many modernist artists, writers and patrons came to Sussex, a rural and coastal region in the South of England, in the early and mid twentieth century. It makes fresh connections between celebrated names, uncovers new stories about neglected artists, and places the lives of modernists in the context of both international events and local history. Artists featured in the book include: Vanessa Bell, Duncan Grant, Virginia Woolf, Leonard Woolf, Eric Gill, David Jones, Ethel Mairet, Jacob Epstein, Ezra Pound, W.B. Yeats, Henri Gaudier-Brzeska, Edward James, Salvador Dali, Pavel Tchelitchew, Tilly Losch, Peggy Angus, Eric Ravilious, John Piper, Edward Wadsworth, Serge Chermayeff, Erich Mendelssohn, László Moholy-Nagy, Edward Burra, Paul Nash, Radclyffe Hall, John Banting, Edith Rimmington, Grace Pailthorpe, Reuben Mednikoff, Roland Penrose, Lee Miller, Gluck (Hannah Gluckstein), Keith Vaughan, Keith Douglas, Hans Feibusch, Jessica Dismorr, Henry James, D.H. Lawrence, E.M. Forster, Bryher, Benjamin Britten, Ivon Hitchens, and Basil Spence.
History
Before coming to Sussex University, I was a Research Fellow at Girton College, University of Cambridge, a Research Associate and Teaching Fellow at King's College London, and a Graduate Fellow at the Human Rights Consortium (School of Advanced Study, London). I hold a PhD from King's College London, an MPhil from the University of Cambridge, and a BA (Hons) from the University of Cambridge. I like to collaborate with museums, galleries and archives, and am particularly drawn to projects that ask questions about the reception and appreciation of art and literature today. This started when I began my AHRC-funded PhD that was based at the Imperial War Museum; I went on to run a summer school course with the Museum of London and gained experience of running creative writing and cultural history classes at adult education centres and charity organisations for elderly and homeless groups; since 2015 I have worked on curatorial projects with galleries and museums both in Sussex and in London.
Previous Publications
I am currently working on book length projects relating to the research areas outlined above. I have presented my research in books, articles, and exhibitions. My most recent publication was the Sussex Modernism exhibition and accompanying catalogue (2017). My catalogue essay can be read here: https://twotempleplace.org/exhibitions/sussex-modernism/. My most recent academic article on modernism explores artist and poet David Jones's ideas about scale and measurement (in The First World War: Literature, Culture and Modernity, OUP, 2017). My interest in how places and spaces are imagined and represented, which has been furthered by the Sussex Modernism project, started when I edited a collection on Life Writing and Space with Eveline Kilian from Humboldt University, Berlin (Routledge, 2016). I am keen to bring my research to audiences outside of academia: in 2014 I compiled and edited an anthology with Sebastian Faulks: A Broken World: Letters, Diaries and Memories of the Great War (Hutchinson/Random House, 2014; published in paperback by Vintage, 2015); you can read a scholarly account of my thoughts about anecdotal war memories in A History of English Autobiography (CUP, 2016). Although my work tends to focus on twentieth-century art and culture, I often feel compelled to respond directly to the contemporary moment: you can read online my article on tweets written during bombing of Gaza in 2014 (Textual Practice, 2015; republished by Routledge in 2016).
PhD supervision
For potential PhD students: I welcome PhD proposals that relate to any of the following:
•Modernism (in visual art and/or literature – but I welcome comparative work on other media also)
•Visual Arts/Visual Culture
•life writing (especially hybrid or experimental forms of autobiographical, biographical and creative-critical writing; I am also interested in psychoanalysis as life writing)
•Work which seeks to use archives, museums, galleries, spaces and buildings.
Teaching
My courses tend to encourage students to explore research possibilities off campus: to visit museums, galleries, archives, and also to look closely at the built environment and local landscapes. Recent courses I have taught at Sussex, and forthcoming courses, include: Word & Image, Sussex Modernism, Literature, Politics and Culture in Post-War Britain, British Modernism, Autobiography as Critical Practice, Virginia Woolf, Acts of Writing, and Arts and Community.
Role
Co-Director of the Centre for Modernist Studies
Associate Director of the Centre for Life History and Life Writing Research
Community and Business
I am interested in bringing my research to audiences outside of the university. I have experience of running creative writing and life writing classes in collaboration with charity and cultural organisations, artists and oral historians. I have also approached my research interests practically: experimenting with both new and old technologies in making archives and collections. I am currently exploring the work of modernists in the Sussex region, and would be glad to hear from Sussex-based cultural and educational organisations, and makers of all kinds, with interests in modernism.