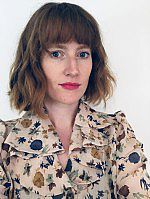 Dr
Hannah Field
Biography
My chief research interests are Victorian literature and material culture, illustration, book history, and children's literature. I have published essays on children's panorama books, Beatrix Potter, and toys in literature, among other topics. At Sussex, I am part of the Eighteenth- and Nineteenth-Century Research Group in the School of English, the Centre for Innovation and Research in Childhood and Youth (CIRCY), and the Centre for Photography and Visual Culture.
I completed my DPhil at Somerville College, Oxford, where I was a Clarendon Scholar. My previous degrees are from Auckland (MA) and Canterbury (BA) in Aotearoa New Zealand. I've taught at Oxford, at Auckland, and at the University of Lincoln, where I was a lecturer in English before coming to Sussex in 2015.
I was the 2018 Sussex/V&A Exchange Fellow.
For potential PhD students: I would welcome proposals from students wishing to work on topics within nineteenth-century studies, especially children's literature and book history. I am also interested in supervising PhD projects that blend literature and material culture, and projects focused around particular archives or collections.