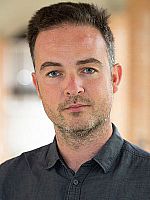 Dr
Augusto Corrieri
Biography
I work as an artist, writer and academic researcher, at the crossroads of performance art, dance and ecology.
I spent my teens studying and tranining in sleight-of-hand magic, and in the late 90s I won international magic competitions by performing a card act.
I obtained a BA in Theatre at Dartington College of Arts in 2002. Following graduation I worked with other Dartington graduates, in the UK and across the rest of Europe. We made and toured dance-theatre works, performance-lectures, and writing projects.
In 2006 I began making solo-authored dance performances. Works that toured internationally included Photographs of a Dance Rehearsal (2008-2011), an installation in which visitors to a gallery effectively "still" a group of live dancers by opening the door to the room in which they are dancing.
In 2014 I obtained my PhD from Roehampton University, in the context of the AHRC creative reseach project Performance Matters.
In 2016 I published my first book, entitled In Place of a Show: what happens inside theatres when nothing is happening.
In a strange twist of fate, an invitation to reflect on the links between magic and performance art (at Berlin's Sophiensaele in 2013) caused me to return to my teen obsession. In 2015 I premiered This is not a magic show, an evening-length solo performance based on sleight of hand magic, presented under the pseudynm Vincent Gambini.

For documentation of works of dance, theatre and ecology: www.augustocorrieri.com
For documentation of Gambini's magic performances: www.vincentgambini.com
Role
Lecturer in Theatre & Performance