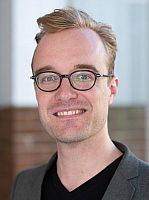 Dr
James Baker
Biography
James Baker is Lecturer in Digital History and Archives at the School of History, Art History and Philosophy and at the Sussex Humanities Lab. He is a historian of long eighteenth century Britain and of contemporary archiving. He is a fellow of the Software Sustainability Institute Fellow and holds degrees from the University of Southampton and latterly the University of Kent, where in 2010 he completed his doctoral research on the late-Georgian satirical artist-engraver Isaac Cruikshank.
As an eighteenth centuryist, his research interests include satirical art, the making and selling of printed objects, urban protest, and corpus analysis. His near contemporary historical interests include the curation of personal digital archives, the critical examination of forensic software and captures, the use of born-digital archives in historical research, and scribing and archiving in the age of the hard disk.
Prior to joining Sussex, James has held positions of Digital Curator at the British Library and Postdoctoral Fellow with the Paul Mellon Centre for Studies of British Art. He is a member of the Arts and Humanities Research Council Peer Review College, a convenor of the Institute of Historical Research Digital History seminar and a member of the History Lab Plus Advisory Board.
Projects
Role
Lecturer in Digital History