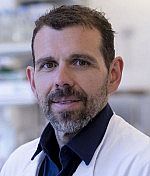 Prof
Georgios Giamas
Biography
Professor Georgios Giamas obtained his Biology degree (BSc) at the National and Kapodistrian University of Athens in Greece. He then undertook his Doctoral degree (PhD - Magna Cum Laude) at the University of Ulm (Germany). Following postdoctoral work at the University of Ulm, he moved to Imperial College London at 2007, working as a Research Associate in the Division of Surgery and Cancer. In 2011 he was awarded Imperial College's prestigious Junior Research Fellowship. In 2012 he was awarded a NIHR Senior Research Fellowship and was appointed as a Research Team Leader. In July 2015, he became a Reader )Associate Professor) in Cell Signalling at University of Sussex while holding an honorary contract (Visiting Reader) with Imperial College. Since May 2018, he is a Professor at the department of Biochemistry and Biomedicine at University of Sussex.
Professor Giamas is an Associate Fellow of the Higher Education Academy and is the Designated Individual (DI) under the Human Tissue Act in the School of Life Sciences.
Role
Professor in Cell Signalling
Editorial boards and Peer reviewing
Deputy Editor in Oncogene (Nature/Springer).
Editoria Board of Communications Biology (Nature/Springer).
Member of the Editorial Board of: Scientific Reports and Breast Cancer Management Journals.
Peer Reviewer for scientific journals including: Annals of Oncology, Molecular Cancer Therapeutics, British Journal of Cancer, Pharmacogenomics journal, International Journal of Cancer, BMC Cell Biology, Breast Cancer, Pharmacological Research, Expert Opinion on Drug Discovery, Medicinal Research Reviews, Plos One, Advances in Breast Cancer and others.
Peer Reviewer for research grants applications from Medical Research Council (MRC), Breast Cancer Campaign (BCC), NC3Rs, Yorkshire Cancer Research and others.
Member of Professional Bodies
ASCO (American Association for Clinical Oncology
Association of Union for International Cancer Control (UICC)
American Association for Cancer Research (AACR)
The European Association for Cancer Research (EACR)