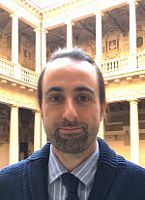 Dr
Pablo Iglesias-Rodriguez
Biography
Pablo Iglesias-Rodríguez is Senior Lecturer in International Finance Law at the Sussex Law School, where he convenes the LLM in International Financial Law. He is also an Honorary Fellow of the Asian Institute of International Financial Law (HKU) and a member of the Research Group on Business and Financial Markets Law of the University of Alcalá.
He is a graduate of the University of Vigo (Licenciatura en Derecho and MPhil in Applied Financial Economics) and the EUI (MRes and a PhD in Law). He holds a PGCertHE from the University of Sussex. He is also a member of the Madrid Bar Association.
Before joining the University of Sussex he held various senior research positions at the Montesquieu Institute and Maastricht University (fellow and post-doctoral researcher), the VU Amsterdam (Senior Researcher) and the EUI (Jean Monnet Fellow at the Global Governance Programme, Robert Schuman Centre for Advanced Studies).
His academic experience includes visiting engagements at the Centre for Business Research of the University of Cambridge (Project on Law, Finance and Development), the School of Law of Columbia University (Visiting Scholar), the University of Padova (Visiting Lecturer), the Warsaw University of Technology (Visiting Lecturer) and Vilnius University (Visiting Lecturer). He also interned at the Spanish Chamber of Commerce in France (Leonardo da Vinci Grant) and the European Commission, DG Internal Market and Services. He has participated as a national expert in projects for EU agencies and the European Commission.
Selected publications
Books
Edited Books
Contributions to Books
P. Iglesias-Rodríguez, 'The Concept of Systemic Importance in European Banking Union Law' in M.P. Chiti and V. Santoro (Eds.), The Palgrave Handbook of European Banking Union Law(London: Palgrave, 2019)
P. Iglesias-Rodríguez, 'Procesos armonizadores en el ámbito de la poscontratación en la UE. El proceso de la reforma y conexión de Iberclear a TARGET2-Securities (T2S)' (The Harmonization of Post-Trading in the EU. The Process of Reform and Connection of Iberclear to TARGET2-Securities (T2S)) in A. Martínez, F.J. Garcimartín Alférez, and A. Recalde Castells (eds.) La Reforma del Sistema de Poscontratación en los Mercados de Valores (Madrid: Thomson Reuters- Aranzadi, 2017), pp. 73-111
P. Iglesias-Rodríguez, 'Paradigm Shift in Financial-Sector Policymaking Models: From Industry-Based to Civil Society-Based EU Financial Services Governance?' in P. Iglesias-Rodríguez, A.Triandafyllidou and R. Gropas (eds.), After the Financial Crisis: Shifting Legal, Economic and Political Paradigms (London: Palgrave, 2016), pp. 23-73
P. Iglesias-Rodríguez, 'Has the Financial Crisis Led to a Paradigm Shift?' (with A.Triandafyllidou and R. Gropas)in P. Iglesias-Rodríguez, A.Triandafyllidou and R. Gropas (eds.), After the Financial Crisis: Shifting Legal, Economic and Political Paradigms (London: Palgrave, 2016), pp. 1-20
P. Iglesias-Rodríguez, 'From One-directional to Multi-directional Paradigm Shift' (with A.Triandafyllidou and R. Gropas) in P. Iglesias-Rodríguez, A.Triandafyllidou and R. Gropas (eds.), After the Financial Crisis: Shifting Legal, Economic and Political Paradigms (London: Palgrave, 2016), pp. 335-345
P. Iglesias-Rodríguez, 'El Derecho de Información del Socio y Otros Interesados' (The right of information of shareholders and other interested parties) in L. Rojo, L.J. Cortés, A.B. Campuzano and A. Pérez-Troya (Eds.), Las Modificaciones Estructurales de las Sociedades Mercantiles (Madrid: Thomson Reuters- Aranzadi, 2015), pp. 265-308
P. Iglesias-Rodríguez, The political economy of global competition law and policy: an institutional approach' in J. Bailleux and A. Vauchez (Eds.), Exploring the Transnational Circulation of Policy Paradigms: Law Firms, Legal Networks and the Production of Expertise in the Field of Competition Policies (Florence: European University Institute Press, 2014), pp. 41-52
P. Iglesias-Rodríguez, 'La gobernanza del sector financiero en la Unión Europea frente a la crisis: el caso del Sistema Europeo de Supervisión Financiera' (The governance of the financial sector in the European Union after the crisis: the case of the European System of Financial Supervision) in M. López-Vallejo, A.B. Mungaray, F. Quintana and R. Velázquez (Eds.), Gobernanza en un mundo interconectado (México D.F.: Universidad Autónoma de Baja California, Asociación Mexicana de Estudios Internacionales, A.C., Universidad Popular Autónoma del Estado de Puebla, A.C, 2013), pp. 159-170
P. Iglesias-Rodríguez, 'Obligations of Directors in Takeovers' in M. Siems and D. Cabrelli (Eds.) Comparative Company Law: A Case-Based Approach (Oxford: Hart Publishing, 2013), pp. 83-124
Articles in Journals
P. Iglesias-Rodríguez, 'What's in a name? Implications of ESMA's interpretation of the concepts of credit ratings and credit rating agencies' (2018) 33 Butterworths Journal of International Banking and Financial Law, 645-648
P. Iglesias-Rodríguez, 'The disclosure of corporate social responsibility in the EU after Directive 2014/95' (2016) 37 The Company Lawyer, 319-326
P. Iglesias-Rodríguez, 'Clearing and Settlement's reform as a source of competition in Spanish equity markets' (2012) 23 International Company and Commercial Law Review, 157-166
P. Iglesias-Rodríguez, 'Project Merlin and Regulatory Threat over the UK's Banks' (2011) 32 Business Law Review, 172-176
P. Iglesias-Rodríguez, 'The Swiss Federal Act on the Restitution of Illicit Assets: A critical analysis' (2011) 26 Journal of International Banking Law and Regulation, 201-205
P. Iglesias-Rodríguez, 'Towards a New European Financial Supervision Architecture' (2009) 16 Columbia Journal of European Law Online, 1-6
P. Iglesias-Rodríguez, 'Shareholder's electronic voting in Spain' (2009) 6 European Company Law, 20-26
Selected conferences
2017 (Speaker): 'Financial Institutions and AU Law', The Implications of African Union Law, University of Sussex, London, 7-8 December 2017
2017 (Speaker): 'The Protection of Retail Consumers in Long-term Banking Contracts',Symposium on Long-Term Contracts and Digital Single Market in EU Law, University of Padova, Treviso, 12-13 October 2017
2017 (Speaker):'Armonización de la poscontratación en la UE: problemas de protección de los participantes en los mercados de compensación', Jornada sobre Financiación, Refinanciación y Reestructuración Empresarial: Problemas Actuales y Nuevas Perspectivas, University of Alcalá, 18 September 2017
2017 (Speaker): 'Cooperation in the post-crisis EU financial supervision architecture and the construction of the Single Market for Financial Services', Transformation, Instability and Diversity: 11th Max Weber Fellows' June Conference, European University Institute, Florence, 7-9 June 2017
Role
Senior Lecturer in International Finance Law