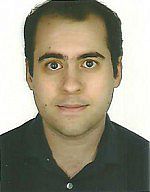 Mr
Jesus Rubio Jimenez
Biography
My name is Jesús Rubio* and I am a PhD student in Physics at the University of Sussex since 2015, where I am developing optimisation strategies for quantum metrology schemes with limited resources using the tools of quantum estimation and quantum information theories. My supervisor is Prof Jacob Dunningham, and I collaborate with Dr Paul Knott, from the University of Nottingham.
Previously I studied a Master's degree in Theoretical Physics in the Institute of Theoretical Physics of the Autónoma University of Madrid, with specialisation in particle physics and cosmology, and writing a master thesis about the toric code model in the context of quantum information theory.
Around that time I also collaborated with Prof Alfredo Luis Aina - my former undergraduate supervisor at the Complutense University of Madrid - to study the relationship between quantum and classical relativistic dynamics using semi-classical techniques.
Last but not least, in 2008 I completed my Spanish Baccalaureate, which gave me the inspiration and basic tools to start the path that would lead me towards my current academic goals.
You can find all my publications here with my ORCID iD.
*Please note that 'Rubio Jiménez' are surnames, and that I do not have a middle name.