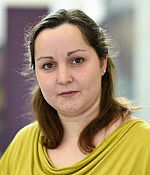 Dr
Katherine Lovell
Biography
Katherine's research is focused on how established infrastructure systems develop and change. She is currently working, as part of ITRC-MISTRAL, on infrastructure governance and has recently been researching business models in infrastructure sectors as part of the International Centre for Infrastructure Futures. Katherine is part of the infrastructure research team in SPRU and she co-convenes the MSc module: Infrastructure, Innovation and Sustainability.
Katherine's background in engineering has motivated her research focus on innovation within the technologically complex and socially important settings of infrastructure systems. Prior to joining SPRU she worked at Imperial College London conducting research on innovation and restructuring in the railway sector, first as a researcher as part of Rail Research UK and then as a PhD student in the Innovation and Entrepreneurship Group at Imperial College Business School.
Role
Katherine is a Research Fellow in SPRU. Katherine is currently researching infrastructure governance as part of the ITRC-MISTRAL project. She is a member of the Sussex Energy Group.