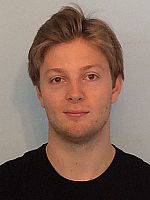 Mr
Nick Baron
Biography
I am currently a PhD student at the University of Sussex, researching kinematically redundant parallel robots in the field of robotic manipulation. My current research involves developing a new architecture of kinematically redundant planar parallel robot that is able to achieve full rotation of the end-effector without encountering a singularity -- a problematic configuration of the robot that is common to these types of mechanisms.
I studied physics at the University of Bristol between 2011 and 2014. After receiving my BSc, I went on to study an MSc in Advanced Mechanical Engineering at the University of Sussex. I was introduced to the topic of robotic manipulation during my MSc Individual Project and I found great enjoyment working in this area. After receivng my MSc, I enjoyed a brief spell working at a robotics distributor before starting my PhD in 2017.
Role
I am a PhD student working in the field of robotic manipulation. My research topic is Kinematically Redundant Planar Parallel Robots.
Qualifications
2017 - present: PhD in Robotic Manipulation, University of Sussex
2015 - 2016: MSc in Advanced Mechanical Engineering, University of Sussex
2011 - 2014: BSc in Physics, University of Bristol