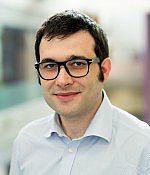 Dr
Alberto Marzucchi
Biography
Alberto Marzucchi is a Senior Lecturer in Economics of Innovation at SPRU, Science Policy Research Unit, University of Sussex Business School. He joined SPRU in 2016 as a Lecturer in Economics of Innovation. Previously (2012-2016) he was Postdoctoral research fellow at the Dept of International Economics, Institutions and Development, Catholic University of Milan (IT). He holds a PhD (European Doctorate) in Local Development and Global Dynamics (major in Innovation and Local Development) from the University of Trento (IT). During his doctoral studies he visited the Institute of Innovation and Knowledge Managment (INGENIO) in Valencia (SP) and the Manchester Institute of Innovation Research (MIoIR) at the Manchester Business School.

Alberto's main research interests include: the relation between technological change, employment and skills; sustainable innovation; the drivers, barriers and failures of firm innovation; firm growth; innovation policy. He has published on international peer-reviewed journals, such as Research Policy, Industrial and Corporate Change, Ecological Economics, Small Business Economics, Journal of Evolutionary Economics. His research has been funded by European, national (UK and Italian) and local public organisations as well as private actors. He has served as referee for a wide range of journals in his fields of expertise.
Alberto has taught and convened modules (both undergraduate and postgraduate ones) in the fields of innovation economics, policy and management as well as on quantitative research methods. He is currently deputy director of the MSc in Strategic Innovation Management.

Role
Convenor of: Introduction to Statistical Research Methods, Quantitative Methods for STI Studies, Industrial and Innovation Policy, Innovation Management Projects
Deputy Director of the MSc in Strategic Innovation Management
Associate Editor of the SPRU WP Series for the area Economics of Innovation
Member of the Future of Work Research Hub