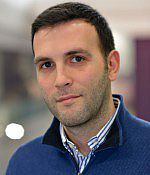 Dr
Nikolaos Karouzakis
Biography
Nikolas Karouzakis is a Lecturer in Finance at the Department of Business and Management since February 2015. Prior to joining the University of Sussex, Nikolas worked as a postdoctoral researcher (2013-2015) on an EPSRC funded research grant, at the Department of Statistics at the London School of Economics.
Nikolas received his PhD in Finance from Cass Business School, City University London. He also holds an MSc in Financial Engineering from Birkbeck College, Un. of London, an MSc in Control Systems from Imperial College London and a BEng in Electrical and Electronic Engineering from City University, London.
His research interests lie in the areas of asset and derivatives pricing and in particular on the dynamic evolution of market interest rates and the valuation of interest rates derivatives. Furthermore, his research, so far, has focused on the estimation and performance of Dynamic Term Structure Models (DTSM) based on different filtering techniques.
Throughout the years of his PhD and postdoc, Nikolas had been teaching a variety of courses (Financial Mathematics, Business Statistics, International Finance, Investment Banking, Decision Models) at the undergraduate (Cass Business School), postgraduate (Queen Mary, Un. of London) and MBA (London Business School) levels.
Prior to starting his PhD studies, Nikolas spent almost two years working as Market Risk analyst at the Risk Management division of Marfin Investment Group in Athens, Greece. His job was mainly focused on developing different 'VaR' methodologies and analysing bonds and derivatives portfolios' risk exposure.