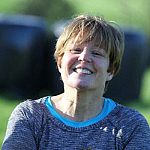 Prof
Karen Lowton
Post:
Professor in Sociology (Ageing and Health) (Sociology)
Other posts:
Head of Department of Sociology (School of Law, Politics and Sociology)
Location:
FREEMAN CENTRE FRE-G20
Email:
K.Lowton@sussex.ac.uk

Telephone numbers
Internal:
2557
UK:
01273 872557
International:
+44 1273 872557

Research expertise:
download vCarddownload vCard to your mobile
Biography
Karen joined the Department of Sociology at Sussex in 2015. She initially trained as a registered general nurse at King's College Hospital in London, specialising in adult intensive care before working as a research sister on randomised clinical trials and the development of quality of life measures. Karen left the NHS in 1996 to undertake a PhD in Sociology at Royal Holloway and Bedford New College. On completion of her thesis Karen worked as a research fellow in Palliative Care at King's College London's Medical School, then as a lecturer in the School of Nursing at King's College, before joining the Institute of Gerontology at King's as a senior lecturer.
Role
Karen is Professor of Sociology (Ageing and Health) and Head of the Department of Sociology. She is also an Extended Executive Committee member of the European Society of Health and Medical Sociology (ESHMS) and a Committee member of RN16 - Sociology of Health and Illness, European Sociological Association.
Community and Business
Karen's engagement and impact work focuses on the long-term effects of medical innovation, for example in extending the life expectancy of groups of children and young people who historically would have died from complex conditions in childhood. She has presented evidence of the complexities of these 'new' ageing populations' longer lives to patients, healthcare professionals, policy makers, health condition-specific charities and the Health Select Committee as part of their enquiry into the management of long term conditions. The Committee's final report is available here: http://www.publications.parliament.uk/pa/cm201415/cmselect/cmhealth/401/401.pdf
Karen's interest and expertise in researching sensitive topics with people considered vulnerable has led her to work with a number of national and international organsiations through advisory, steering or editorial group membership. Most recently Karen has developed and delivered qualitative research methods training to public health workers at the Ethiopian Public Health Institute in conjunction with Médicins Sans Frontières (2017). She additionally co-designed and delivered a series of five workshops on mixed methods for Médicins Sans Frontières staff working around the world (2017).