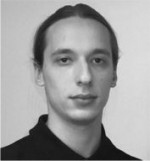 Dr
Niko Munzenrieder
Biography
Niko Münzenrieder became a lecturer at the Sensor Technology Research Centre, Department of Engineering and Design, University of Sussex in January 2015. Additionally, he is also a visiting scientist at the Swiss Federal Institute of Technology.
Niko received the Dipl. Phys. (MSc) degree in physics from the Technical University Munich (TUM), Germany, in 2008, where he worked on vertical-cavity surface-emitting laser diodes at the Walter Schottky Institute. Afterwards, he joined the Electronics Laboratory at the Swiss Federal Institute of Technology Zurich (ETH), Switzerland, and received the Dr. sc. (PhD) degree in electrical engineering in 2013. For his PhD thesis entitled: "Flexible oxide semiconductor electronics on plastic substrates" he was awarded the ETH Medal.
In his research he wants to combine electronics with everyday objects. To enable an unobtrusive integration of electronic devices with flexible, soft or stretchable materials, this research focuses on the development, fabrication, and characterization of deformable thin-film devices on plastic substrates.