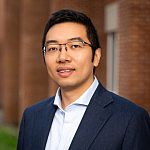 Dr
Zhengguo Sheng
Biography
Zhengguo Sheng is a lecturer at Department of Engineering and Design, the University of Sussex, since 2015. He is also the visiting faculty of University of British Columbia (UBC) and co-founder of WRTnode. Previously, he was with UBC as a research associate, and with France Telecom Orange Labs as the senior researcher and project manager in M2M/IoT. He also worked as a research intern with IBM T. J. Watson Research Center, USA, and U.S. Army Research Labs. Before joining Orange Labs, he received his Ph.D. and M.S. with distinction at Imperial College London in 2011 and 2007, respectively, and his B.Sc. from the University of Electronic Science and Technology of China (UESTC) in 2006. He has published more than 80 International conference and journal papers. His current research interests cover vehicular communications, IoT/M2M, cloud/edge computing.
Senior Member of IEEE, IET, Fellow of of The Higher Education Academy (HEA).
Role
Lecturer in Advanced Networks and Communications.
Year 3 and 4 student project convenors.