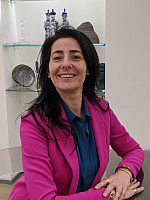 Dr
Maria Moscati
Biography
Maria Federica is an Italian advocate and trained mediator. She holds a PhD from SOAS and joined Sussex in January 2015. She has previously convened and lectured at SOAS, Queen Mary and UCL - University of London, and at the University of Shantou in the People's Republic of China. Before undertaking her doctorate she worked for Save the Children Italy where she specialized in children's rights. Her main research interests lie in issues relating to ADR, Access to Justice, Comparative Family Law, Children's rights, SOGI. She has published in those areas, and is the author of Pasolini's Italian Premonitions: Same-Sex Unions and the Law in Comparative Perspective. Her research projects have been awarded funding by the EU Commission. Among others ,Litigious Love: Same-Sex Couples and Mediation in the European Union, involved a comparative analysis of the use of mediation for resolving intra-family disputes between same-sex partners. Another project, Bleeding Love: Raising Awareness on Domestic and Dating Violence Against Lesbians and Transwomen in the European Union,has investigated domestic and dating violence against lesbian, transgender and bisexual women in Italy. Along with Dr Peter Dunne (University of Bristol), Maria is currently undertaking SLSA-funded research, which explores the voice of trans children in England on the topic of reforms to the Gender Recognition Act 2004.
Maria Federica combines academic interests with activism in support of LGBTI people, and is a member of Avvocatura per i Diritti LGBTI. As cause lawyer she has been involved in a number of domestic and European court cases including among others the recent: Case of Orlandi and Others v. Italy, App nos. 26431/12; 26742/12; 44057/12 and 60088/12 (ECtHR, first section, 14 December 2017) (collaborated to the drafting of the application and represented two of the applicants) and Constitutional Court of Italy, decision 11June 2014 no. 170 (collaborated to the drafting of the brief lodged with the Constitutional Court). She has also served as adviser for the National Committee of Nepal on Sexual Orientation, and Same-Sex Marriage.
She is one of the co-directors of the Centre for Cultures of Reproduction, Technologies and Health at Univerisity of Sussex.
She is co-editor of Mediation, Theory and Practice.
Role
Senior Lecturer in Family Law
PGR Co-convenor; CLOCK Scheme Lead; Mediation Competition Lead.
Co-Director of Centre for Cultures, Reproduction, Technologies and Health (CORTH)
Member of: Centre for Innovation and Research in Childhood and Youth (CIRCY); Centre of Gender Study.
Fellow of the Higher Education Academy
Trained Mediator
Memeber of the Italian Bar (non-practising)