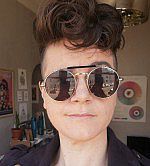 Dr
Jennifer Mankin
Biography
I grew up in the Pacific Northwest, about 30 miles north of Seattle, Washington. In 2007 I started my undergraduate degree in Linguistics at Western Washington University in Bellingham, WA. During my degree, I studied abroad for six months in Marburg, Germany, and worked as an advisor for exchange students from Japan. I graduated in 2010 cum laude and with honors with a major in Linguistics, two minors in German and Japanese, and a certification in Teaching English to Speakers of Other Languages (TESOL). I returned to Germany for a year on a Fulbright Scholarship to teach English in Stadtroda, Thuringia, then moved back to Bellingham to work with exchange students at WWU.
In 2012, I moved to Scotland to complete a one-year Master's in Psychology of Language at the University of Edinburgh. I then began PhD study supervised by Prof Julia Simner. In 2014 Prof Simner moved to Brighton, and I completed the last three years of my PhD at the University of Sussex. Since 2017 I have been a Teaching Fellow in the School of Psychology at Sussex, focusing primarily on research methods and cognitive psychology.
Role
Lecturer/Convenor/Practical Tutor
My primary focus is the delivery of high-quality, engaging, and interactive teaching. I convene or co-convene two undergraduate/MSc modules, and I contribute lectures and seminars to several more. My most intensive responsibility is delivering practical teaching, which I also plan, design, and coordinate. As part of my role as a Teaching Fellow, I am constantly trying to get feedback and ideas to update and improve all of my teaching. I am particularly enthusiastic about active learning, flipped classrooms, and using learning technologies to help students engage with the topics and with each other.
Accessiblity Advisor
I am creating this role to reduce the administrative and advocacy burden inappropriately borne by students with disabilities, freeing them to participate fully and equally in their Psychology course. The role contains three primary elements. First, to advocate for the accessibility provision needs of the School as a whole, in the context of the University's values, goals, and legal obligations, as well as its aspiration to be a leader and exemplar of diversity and inclusion in the HE sector. Second, to work with individuals in the School to identify the additional support necessary for their equal participation. Third, to ensure that this additional support is implemented, both by activities such as delivering training and obtaining resources or funds, and by actively working with and advocating for those individuals throughout their time in the School.
Experimental Psychology MSc Course Coordinator
I am shadowing the current EP MSc Course Coordinator to learn how the role is done. I expect to share responsibility for this role for the 19/20 academic year.