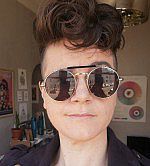 Dr
Jennifer Mankin
Role
Lecturer/Convenor/Practical Tutor
My primary focus is the delivery of high-quality, engaging, and interactive teaching. I convene or co-convene three second-year undergraduate/MSc modules. My most intensive responsibility is delivering practical teaching, which I also plan, design, and coordinate. As part of my role as a Teaching Fellow, I am constantly trying to get feedback and ideas to update and improve all of my teaching. I am particularly enthusiastic about active learning, flipped classrooms, and using learning technologies to help students engage with the topics and with each other.
DT Coordinator
I am keen to help Doctoral Tutors develop their teaching skills and to better equip them to deliver consistent, high-quality teaching in the School. In this capacity, I coordinate and complete the teaching allocation for DTs along with the DTL; create and support the use of ongoing feedback and feed-forward practices to encourage and enable better teaching practice; and serve as the faculty point of contact for DTs seeking help, advice, or assistance with improving their teaching.
Next year: Experimental Psychology MSc Course Coordinator
I am shadowing the current EP MSc Course Coordinator to learn how the role is done. I expect to take over responsibility for this role for the 19/20 academic year.