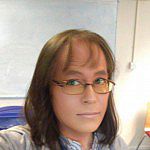 Dr
Rachael Bond
Biography
I completed my Ph.D., under the supervision of Professor Tom Ormerod, in 2018. Centred on the creation and development of a theory of decision making based on the principles of quantum mechanics, my work provides an innovative model of decision making under uncertainty which gives greater insight into psychonomic behaviour than that provided by previous theories.
My Ph.D. thesis, "Relational Information Theory", may be downloaded from SRO
More information about quantum cognition may be found at www.quantumpsy.ch
Role
Research Fellow in Quantum Cognition
Qualifications
BSc (Psychology) (Open)
Ph.D. (Psychology) (Sussex)
Activities
Committee member of the Mathematical, Statistical and Computing Section of the British Psychological Society.
Upcoming talks
Brighton: March 20th, 2019. "The Beginner's Guide to Quantum Cognition".