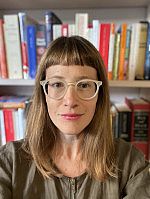 Dr
Andrea Haslanger
Biography
I came to Sussex in 2015 having previously held posts as an assistant professor at Tufts University and a teaching fellow at the University of Exeter.
I specialise in eighteenth-century English literature. My research interests include the novel, early modern and Enlightenment philosophy, cosmopolitanism, theories of personhood, and automata and the history of artificial life.
I have published essays about materialist pornography, antislavery poetry, and automata and the novel, among other topics. I am at work on a book about forms of peace in the eighteenth century.