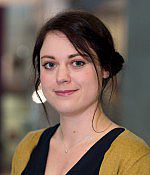 Ms
Martha Bloom
Post:
Research Assistant for Creative Industries Policy Evidence Centre (SPRU - Science Policy Research Unit)
Other posts:
Doctoral Tutor (SPRU - Science Policy Research Unit)
Research student (SPRU - Science Policy Research Unit)
Location:
JUBILEE BUILDING JUB-370
Email:
M.Bloom@sussex.ac.uk
download vCarddownload vCard to your mobile
Biography
Martha Bloom's research centres around skills and innovation in the Creative Industries, with a particuar focus on the integration of Arts and STEM knowledge bases.
She has substantive experience working in the Creative Industries as a theatre director, writer, festival producer and heritage film executive. In 2014 she was awarded a Chancellor's Scholarship to conduct an MSc at SPRU, which prompted an interest in researching the Creative Industries from an innovation perspective. After a short spell away from academia working as a researcher for local government, she was awarded a scholarship from the R&D Management Association (RADMA) to undertake a PhD at SPRU.
Role
Research Assistant – Creative Industries Policy and Evidence Centre (PEC)
Doctoral Tutor - Innovation in the Creative Economy; Innovation and Entrepreneurship in the Cultural and Creative Industries
Research Student – PhD Technology and Innovation Management
Community and Business
Martha is currently undertaking an ESRC funded residency at The FuseBox, Brighton, where she engages with local businesses from the Brighton Digital and Creative cluster.
Qualifications
2016-Present – University of Sussex – PhD Technology and Innovation Management
2016-2017 – University of Sussex – PGDip Social Research Methods – Distinction
2014-2015 – University of Sussex – MSc Managing Innovation and Projects – Distinction
2008-2011 – Middlesex University – BA Theatre Arts (Directing) – First Class Honours